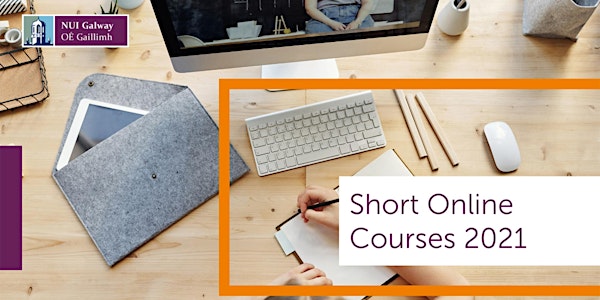 Short Courses Online, NUI Galway - Autumn 2021
NUI Galway Short Courses Online
About this event
The Centre for Adult Learning & Professional Development , NUI Galway offers a series of short, non-accredited courses in a number of different subject areas. Designed for students with an interest in the subjects on offer, these courses may provide you with an opportunity, to find out more about your subject areas and also to experience the world of lifelong learning. 
The short courses start the week beginning 4th October 2021 and are run over 8 weeks, one evening per week from 7 to 8.30pm*- the courses will be delivered online via Zoom. Some courses may be taught live while others may be pre-recorded and made available for a stated period of time. For the pre-recorded sessions participants will also be able to join a Question and Answers event facilitated by the course tutor. More information on all the courses and the course brochure at www.nuigalway.ie/shortcourses.
*Art History & Create your own Podcast will run over 6 weeks with classes taking place from 7 to 9pm.