A Tiered Approach to Occupational Therapy Services Supporting Student Participation, Health, Wellbeing & Success in Higher Education
About this event
Three-quarters of all mental illnesses begin by the mid-20s (Higher Education Authority, 2020). Increased levels of student mental ill health, mental distress and low wellbeing have been reported nationally and internationally (Auerbach et al. 2018). The transition into and through higher education is challenging for many students (Harris, 2019; Keptner, 2019). In fact, college was the most frequently reported stressor for young adults in the My World 2 Survey (Dooley et al. 2019). Challenging transitions, increased stress and mental ill health can affect students' academic performance and their desire and capacity to remain in higher education (Duffy et al. 2019).
Mental health promotion, prevention and treatment in higher education is mainly facilitated through one-to-one counselling services (Brown, 2018). However, there are significant pressures on these services, with demand exceeding supply, even though stigma around accessing mental health supports remains (Price et al. 2019). Developing and resourcing a range of evidence-based interventions targeting the mental health, wellbeing and success of students is critical (Hill et al. 2020; Hudziak et al. 2017; Long et al. 2021; Worsley et al. 2020) along the continuum of support from universal to intensive supports (Department of Health, 2020).
Bringing together Occupational Therapists from higher education institutions (HEIs) across Ireland, this seminar will showcase Occupational Therapy interventions at each of the three major tiers of service: universal (whole-population mental health promotion), targeted (prevention services for those at risk for mental health challenges), and intensive (individualized services for those diagnosed with mental illness).
A panel session with representatives from university student health services, UCC Students' Union, Union of Students of Ireland and the Association of Occupational Therapists of Ireland will conclude the seminar.
Learning Objectives
Understand the role of Occupational Therapists in higher education settings
Understand the Irish Healthy Campus Charter & Framework
Understand the tiered public health Occupational Therapy approach to supporting student participation, health, wellbeing and success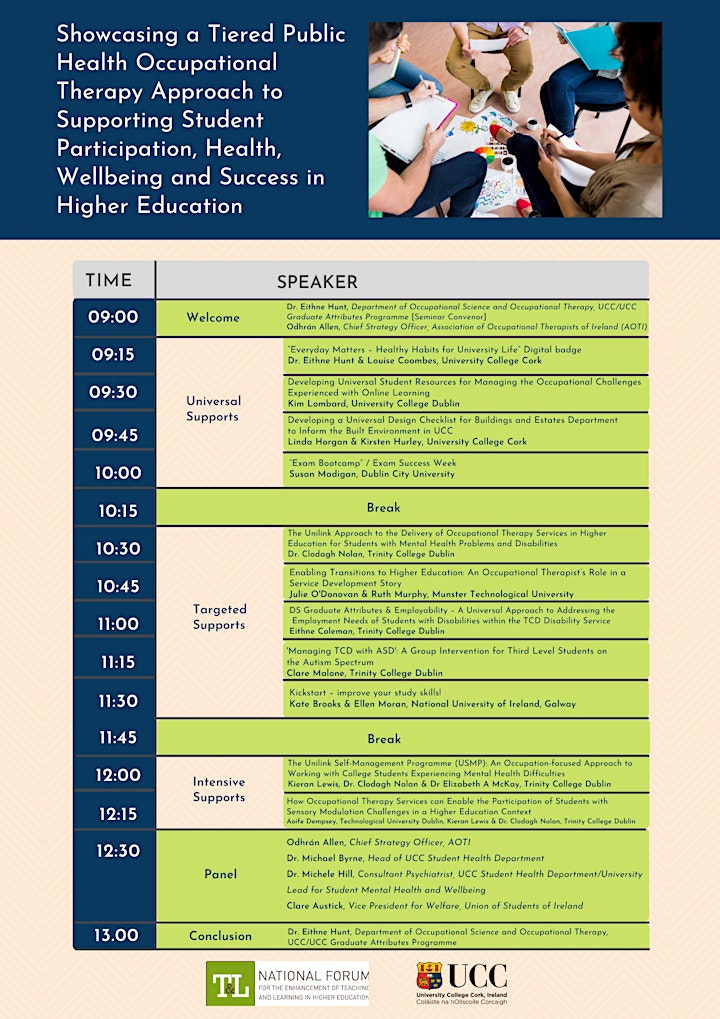 Organiser of Showcasing Models of Occupational Therapy Services in Higher Education
Dr. Eithne Hunt is an occupational therapist who has over 24 years' clinical, research and teaching expertise in the area of adolescent health. She is a multi award-winning university lecturer at the Department of Occupational Science and Occupational Therapy, UCC where she has developed innovative curricula on everyday activities and health.