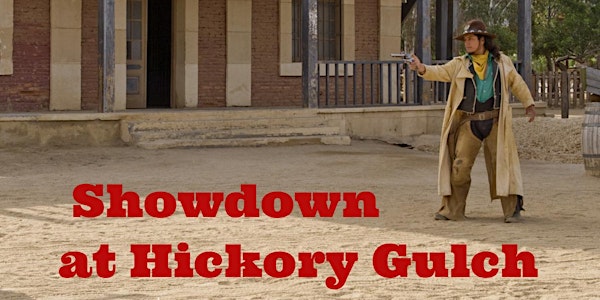 Showdown at Hickory Gulch - A Live Cowboy Western
Our site-specific outdoor live performance will take you back to the world of the wild ,wild West! Free on Culture Night. Paid on Saturday.
By Flying Turtle Productions
When and where
Location
27 Pearse St 27 Pearse Street D02 K037 Dublin 2 Ireland
Refund Policy
Refunds up to 1 day before event
About this event
Our site-specific live 30-minute outdoor performance will take you back to the world of the wild ,wild west! Welcome to the world of cowboys and cattlerustlers, Sheriffs and Deputies, outlaws and ladies of ill repute. If you think it could all end in a gunfight, you can be darn tootin' sure it will! Please read full details below before booking.
LOCATION: Flying Turtle Productions, 27 Pearse Street, Dublin D02K037 in the Ireland Institute.
Building on our previous years of presenting genre styled performance (Culture Night Noir, Midsummer Night's Dream Escapes!), we now celebrate the classic westerns. The audience will pass briefly through a building corrider then will view the performance from an outside atrium area which has an overhead shelter. We will also hope to share video on our Youtube Channel. See you there, partner!
RESERVATIONS REQUIRED and must be booked in "Pods" of 2 to 6 people who must be arriving together an audience group, with social distancing between pods. Masks must also be worn. COVID-19 health and safety procedures will be in place including contact tracing via booking system. No COVID cert is needed since we are less than 50% capacity outdoors.
BOOKING for CULTURE NIGHT as part of Dublin Culture Night 2021 is a FREE TICKETED EVENT on FRIDAY Evening September 17th - Bookings will begin on Wednesday Sept 15th at 10:00am at this link or through our website. (IN PREVIOUS YEARS OUR EVENTS HAVE BOOKED OUT IN ONE HOUR! After pods have been assigned, we may be able to release a second wave of seats.)
WE HAVE A BONUS PERFORMANCE night on SATURDAY Evening, September 18th for a small ticket price of €10 per person which goes to the actors, and must be purchased in advance through the link. This can be purchased beginning August 19th and will sell out early. After pods have been assigned we may have a few limited seats released.
CLICK THE TICKET LINK, SELECT A PERFORMANCE DATE AND TIME, AND RESERVE FOR YOUR FREE (Friday) OR PAID (Saturday) PERFORMANCES TIMES:
Friday Evening Sept 17th reserve beginning 10:00am Sept 15th for this FREE Culture Night event performing promptly at 5:00, 6:00, 7:00, 8:30, 9:30
Saturday Evening Sept 18th paid ticket price of €10, plus booking fee, promptly at 5:00, 6:00, 7:00, 8:30, 9:30. All proceeds go to the performers and creative team.
NOTE: Performances will begin promptly as scheduled and this event is fills quickly. A place will be held for you in the performance time that you select, but YOU MUST BE IN LINE IN FRONT OF THE BUILDING 5 MINUTES BEFORE PERFORMANCE OR YOUR PLACE WILL BE GIVEN AWAY TO THE WAIT LIST PEOPLE. NO LATE ADMISSION.
IF you are experiencing any symptoms of COVID-19 or have had contact with anyone known to have COVID-19 please do not attend this performance. A reminder of this will be sent prior to the performance.
Ability to climb 4 stairs is required, and it is recommended for adults or young people age 10 and older.SEE OUR YOUTUBE TESTIMONIALS FROM PREVIOUS YEARS: https://www.youtube.com/watch?v=7bOjm9M0ZEM&t=6s
FEATURED ACTORS: Michael Keegan, Simon Cunningham, Alan Buckley, Ciarán ó Murchú, Ella Mooney, Julie Dean, Kate O'Donnell, Rachel Walshe, Phoebe Moore, Louise O'Toole, Richard Sweetman, Deirdre Grant, Bill Paton, Gordon Delap and Simon Mombrun O'Neill.
Conceived and directed by Kathleen Warner Yeates
Flying Turtle Productions provides part-time evening courses in Drama, Screenwriting and Public Speaking, as well as film and theatre production and corporate training. Please see more details on our website for full details at www.flyingturtleproductions.com.
For any additional inquireys contact info@flyingturtleproductions.com or 086 824 4826
SPECIAL THANKS TO THE IRELAND INSTITUTE!
#CultureNight #LOVECulture @CultureNight @CulturenightDub