About this Event
Why 2.0? Unfortunately, our first Alumni Reception on 28th February was cancelled after only 30 minutes, a few glasses of wine and the start of some interesting conversations, due to an unforeseen power outage. We have decided to give it another go, and are organising the SLCL Alumni Reception 2.0 in the hope of seeing many of the faces from last time as well as many new ones.
Please scroll down for more information.
Below the only image available from what was going to be a wonderful evening: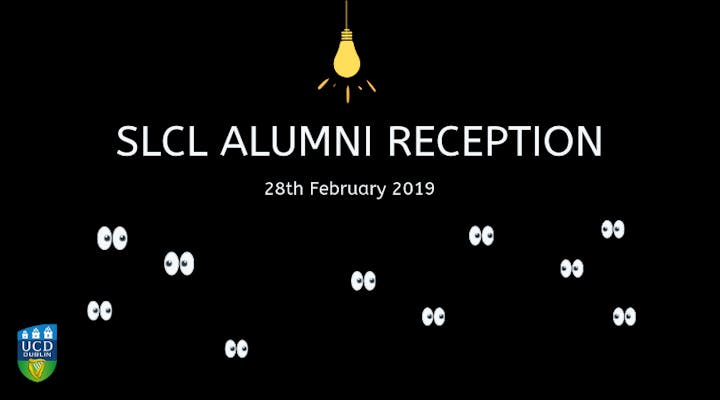 We are delighted to invite you to the Grand Opening of our newly refurbished premises and our first Alumni Networking Event on Thursday, 16th May 2019 at 6pm in D301 (Newman Building, UCD).
If you graduated from UCD over a decade ago, you may not even be aware of the existence of our School as we have undergone major restructurings over the past decade. In 2004/2005 the five separate language departments formed the School of Languages, Literatures and Film, to become the School of Languages and Literatures in 2006 – and finally: the School of Languages, Cultures and Linguistics in 2015.
During that time we have had to bid farewell to many colleagues who have retired, and in return we have welcomed many new staff members to our School. Of course, we have also welcomed new students while proudly watching others graduating. In 2018 we introduced our new pathways for undergraduate students and moved into our newly refurbished offices on the third floor of Newman.
In order to embrace the future, but also preserve our past, we would now like to strengthen our connections with former students and colleagues and would be delighted if you could join us on 16th May for a convivial get-together to reminisce about old times, share memories, meet old friends, revive old connections and form new ones!
The evening's programme is as follows:
6pm Welcome wine reception
6.30pm Welcome by the Head of School, Prof. Bettina Migge
6.35pm Talks by Alumni and Emeritus
Vera Capkova joined UCD as a part-time lecturer in Linguistics 1968. She was appointed a full time lecturer in 1977 and became a college lecturer in 1980. In 1992, Vĕra assumed responsibility as the head of the Linguistics department, which she held until her retirement in 2002.
7.00pm Roundtable Discussion with SLCL Alumni
Nicholas Twist has recently retired as Irish Ambassador to the Republic of Cyprus. He studied German and Italian in his Undergraduate degree and returned to UCD last year to complete the Higher Diploma in French.
Niamh O'Connell studied French and Spanish at UCD and graduated with a BA (Hons) International in 2000. She is now running The Wellness Clinic (www.thewellnessclinic.ie)in Dublin.
Seán O'Keeffe: Seán graudated from UCD with a BA in International Modern Languages in German and Spanish in 2018. He is currently working at Lidl as "Sales Organisation Coordinator".
Deirdre Hanley: Deirdre graduated from UCD with an Arts Degree in Arts History and French in 2013 and completed the MA in Modern Languages in 2016.
7.20pm Food and Wine reception
We would be delighted if you could bring photos or any other memories to add to our memory wall! Digital versions may even be emailed in advance to alumnicommunications@ucd.ie.
Find out more about our speakers under: http://www.ucd.ie/slcl/newsandevents/slclalumnireception2019/