Multiple Dates
Sleep Like a Baby - get to sleep, stay asleep , wake up refreshed every day
We take sleep seriously … … and can hand-on-heart say that this programme will help you get to sleep, stay asleep and wake up refreshed.
About this event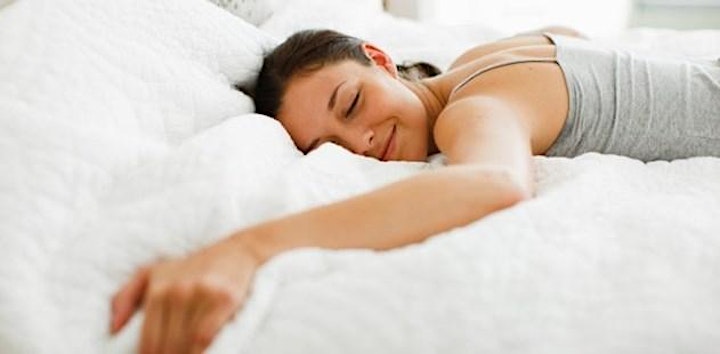 Organiser of Sleep Like a Baby - get to sleep, stay asleep , wake up refreshed every day
Restoring sleep is possible - when you have the right tools, the right guide and the right support. This is an opportunity to invest in yourself and take the steps to learn everything you need to banish restless, sleepless nights.
This special Online course will teach you all you need to know to help you fall asleep faster and wake up feeling refreshed, ready to enjoy the day ahead
Here's what you'll learn:
Bed-time Yoga - The most lazy Yoga to soothe , calm and slow down your mind
Zen Breathing - For when you feel wired to the moon
Cognitive Behavioural Techniques - unique to this course , we offer scientifically based effective tools addressing long-time sleep problems.
Somatic Yoga - Releasing chronic tension of the neck and shoulders
Craniosacral Unwinding - Self massage with small therapy balls releasing deeper layers of tension in the spine, neck and jaw
Yoga Nidra - Deeply satisfying snooze-time whole-body relaxation
This is for you if …
You're looking for science-backed solutions that releases your stress, helps you relax, and propels you into a state of tranquility so you can get the quality sleep your body really needs.
You dread going to bed – you would love to know how manage your sleep anxiety and end the tossing-and-turning each night.
You feel burnt out from lack of sleep ; you feel grumpy, anxious or unable to control your emotions and you know that being deeply rested is critical for living your best life
You might doubt that you can ever recover your sleep without the aid of sleeping pills, or you may think that as it's being going on for so long you're a lost cause.
I'm here to tell you that I've helped many people like you. … and would love to help…
After the online session you will receive audios and videos of all the sessions so that you can continue to guide yourself to restful sleep night after night.
A little about me: I know the anxiety that can creep in when you wake up in the small hours of the morning.
Thoughts of not having enough energy for the next day and panic that you'll never get another good nights sleep take hold and stop us sleeping. I've been there too so I really know what it's like.
And now I'm on the other side of that nightmare and for the past seven years have been sharing what has worked for me - and for many of my students and clients over the years.
I'm bringing with me 25 years of working and studying stress and anxiety, incorporating all of my learning into this unique approach to restoring you to sleep that is deep and satisfying.
I'd love for you to join me for all this loveliness, sleep support and attention - the cost for this wonderfully restorative evening is just 15 euro and can be booked and paid for through PayPal. See less