Event Information
Location
Sligo Sport and Recreation Partnership
sligo
Sligo
Ireland
Individual timed, rowing event for secondary schools in Sligo
About this event
The event is an individual timed row on a concept 2 rowing erg.
This will take place on site at the school overseen by an SSRP Rowing Official who will record all scores for a central database.
Rowers available for use from Sligo Sport and Recreation Partnership, please see contact for further details on this.
There are number of Event Categories for beginner rowers to advanced rower who are already in clubs, and a fun one for school staff too.
Please select the number of entries you would like in each category. You will then be forwarded an enter form to enter each students name for each event.
Please select a date you would like the SSRP Row Official to attend your school to supervise the timed rows and we will try our best to accommodate you on that day.
Entry Categories:
Max meters in 5minutes
• 1st - 2nd Year Girls - entered as U14 Girls
• 1st - 2nd Year Boys - entered as U14 Boys
• 3rd year - TY Girls - entered as U16 Girls
• 3rd year - TY Boys - entered as U16 Boys
• 5th – 6th Year Girls – entered as U18 Girls
• 5th – 6th Year Boys – entered as U18 Boys
2000meters for Time
The Open category is for participants who have rowing experience
• Open Girls
• Open Boys
Teacher Category
Max meters in 5 minutes
• Open to any member of staff within the school
• Men's & Women's category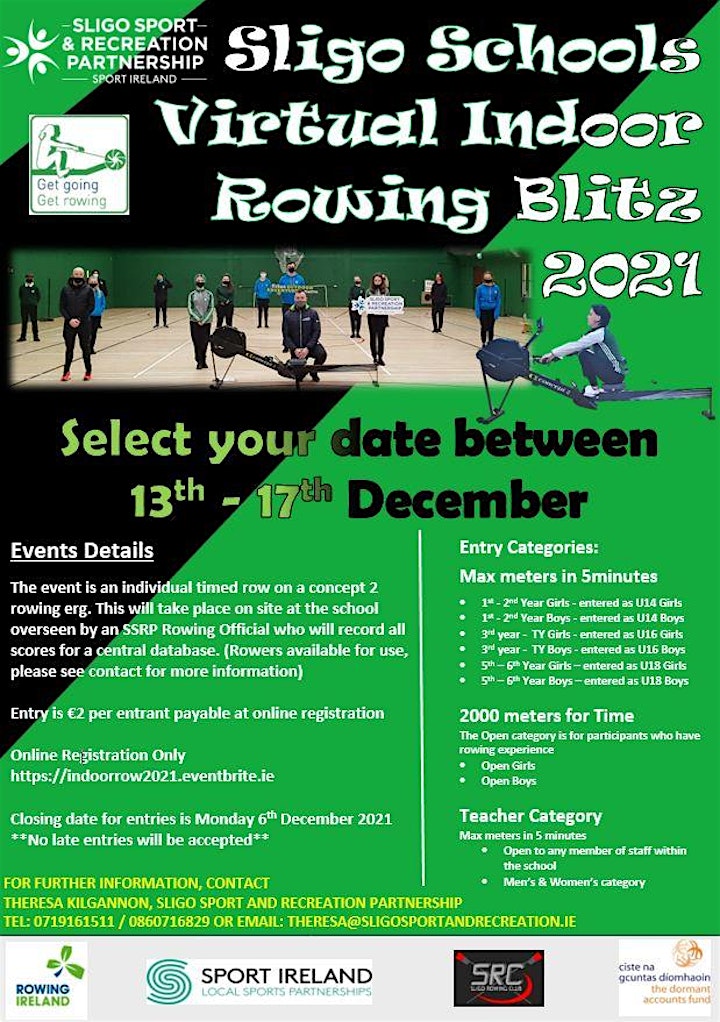 Date and time
Location
Sligo Sport and Recreation Partnership
sligo
Sligo
Ireland