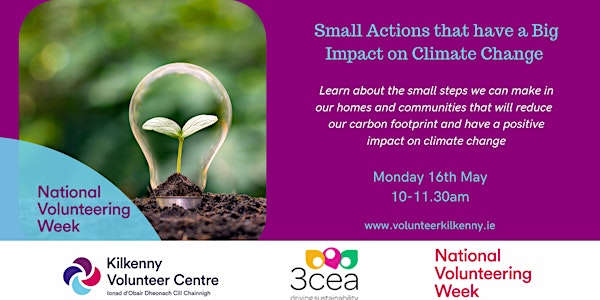 Small Actions That Have a Big Impact on Climate Change
This National Volunteering Week, learn about small practical steps we can all make that will have a positive impact on climate change.
About this event
Climate change is such a huge topic but did you know that there are so many small things that we can do in our homes and communities that wont just benefit us but the climate too?
Gráinne Kennedy from the 3 Counties Energy Agency will walk volunteers through some practical steps we can all take in our everyday lives that will save energy and conserve our environment.
1. We will look at where we get the best energy savings in our homes and how to avoid the pitfalls.
2. We will also look at the every day uses of energy from our cookers, to our TV's to our fridges focusing on how to use them in the most energy efficient way.
3. We will explore what grants might be available to assist us as we start on our energy conversation journey.
Very few of us have learned about these topics in school so this is an opportunity to ask all the questions that we have been harbouring while also learning to cut down on our energy costs. Win win for everyone!!