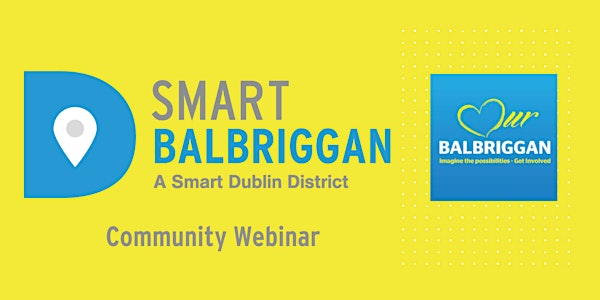 Smart Balbriggan Community Webinar
Join the Smart Balbriggan community webinar, a free, open event to update you on the Smart Balbriggan Programme.
About this event
Join us for the first 2021 Smart Balbriggan Community Webinar, a free, open event to update you on the Smart Balbriggan Programme.
Smart Balbriggan was founded in June 2020 by Fingal County Council as a Smart Dublin District where innovation projects are fast-tracked.
Smart Balbriggan will complement and support the delivery of the Our Balbriggan Rejuvenation Plan (2019-2025) by trialling and testing new technology projects and solutions.
During this webinar we will present the Smart Balbriggan Programme Framework and new Public Trello Board. The Programme Framework was developed thanks to input from the Balbriggan community and is our key guiding document, outlining our strategic priorities, principles, objectives and planned actions for the programme.
We will also update you on a number of exciting new projects that have commenced over the past six months including:
- Model Quay Street and Harbour 3D Model: a state-of-the-art public consultation tool that will allow our community to experience and consider planned redevelopments immersively.
- WeCount: a 'citizen science' project to empower local communities to take a leading role in the production of data, evidence and knowledge relating to mobility in their own neighbourhoods.**
-Smart Balbriggan Hackathon: an exciting, upcoming community event that will explore new and innovative ways to tackle local challenges and improve our town.
Register now and you will receive a link for the webinar event.
Click on the link Wednesday March 10th at 18.30 to join.
The event will be hosted on Microsoft Live Events.
If you have any queries about Smart Balbriggan or the webinar event please contact smart.balbriggan@fingal.ie