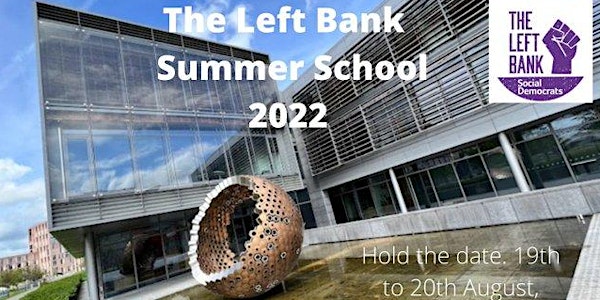 Social Democrats Summer School 2022
A weekend of discussion, debate and political learning on social democracy.
When and where
Location
Maynooth University Maynooth Maynooth Ireland
Refund Policy
Contact the organiser to request a refund.
About this event
Friday 19th of August 2022
18:30- 19:00 Registration and Tea & Coffee
19:00-19:10 Welcome and Opening remarks
Session 1 -19:10- 20:15
Topic: Successive Governments in Ireland since the formation of the state have treated women, children and vulnerable groups poorly. To advocate for a change in the status quo and to have a truly feminist republic that will endure for the next 100 years, how can we use the knowledge of our past and utilise our current activism to push forward our ideals for a truly just and fair society and to combat misogyny in politics, online and in our interpersonal interactions.
Speakers:
Mel Bracken - Kildare Coalition to Repeal the 8th, academic and archiving the 8th
Brenda O' Donoghue - Waking the Feminists
Claire McGettrick,
Ebun Joseph, Lecturer - Author and Consultant.
Chair: Cllr Elisa O Donovan.
Session 2 - 20:20- 21:30
Topic: How art can be a powerful form of activism and drive social change. Ireland needs to nurture and invest in new and existing forms of art whilst preserving our historical culture.
How undermining the livelihoods of art in all it's forms has a harmful effect on society in general and what we can do to ensure we have a thriving, supported arts sector.
Speakers:
Grace Dyas - artist, activist, writer, director, producer and performer
Emmet Kirwan – Actor, Playwright and Director.
Emilie Conway -musician and artist, DADA campaign.
Chair: Gary Gannon, TD
Saturday 20th of August 2022
Session 3- 10:00- 11:20
Topic: Our panel will explore the challenges and opportunities facing the Left across Europe and Ireland. We have since a sharp rise in populist and autocratic leaders in many countries across the world but also significant gains for the Left with many nations electing social democratic/socialist governments. Our panel will explore what this means for a party like the Social Democrats within the context of global economic uncertainty, staggering inequality in wealth distribution and war in Europe.
The Panel will discuss
- The prevailing global economic situation and the forecasts for the short to medium term
- The causes and solutions for the sharp increases in the cost of living and energy prices
- The future for progressive left wing politics and the challenge of rising autocratic governments/Leaders
- The role that trade unions play in defending workers rights and distributing wealth in advanced capitalists societies will be examined.
- Recent industrial disputes and the continuing precarity of low paid precarious work
Speakers:
Mike Savage - London School of Economics
Ethel Buckley - Deputy General Secretary, SIPTU
Chair: Catherine Murphy TD
Session 4 -11:30-12:30
[Breakout sessions]- To be confirmed
Lunch 12:30- 14:00
Session 5 - 14:00- 14:50
Topic: Housing Precarity and Generation Rent: How did we get here? And what do we need to do now?
The crash of the Celtic Tiger which was driven by reckless lending, overinflated house prices and speculation should have been the moment when the link between Irish politics and the property industry was broken once and for all. Instead, the speculative property industry successfully managed to lobby for changes in housing policy that have led to reduced standards, a decline in home-ownership, growing precarity and a growing role for large international institutional investors and investment funds.
Speaker: Dr Richard Waldron - Queens University Belfast.
Chair: Cian O'Callaghan, TD
Session 6- 15:00- 16:10
Topic: Our Panel will explore Climate Change and the Biodiversity Crisis and how we can succeed in getting public buy-in as we meet the challenges of both, particularly bearing in mind the additional requirement for a just transition. The Panel will discuss the current situation facing Ireland and what we need to do globally and as a country to avoid the worst effects of these twin threats
Speakers:
Eanna Ni Lamhna -Biologist, Author and Broadcaster
Michelle Murphy - Social Justice Ireland
Colm Byrne - Doctors for the Environment Ireland
Chair: Councillor Ronan Moore