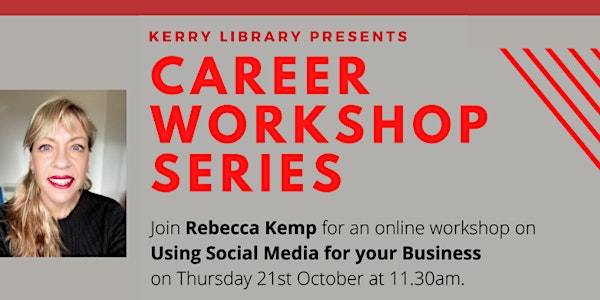 Social Media for Business with Rebecca Kemp
Rebecca Kemp from Rebecca Kemp Digital Media will hold a talk and Q&A on using Social Media for your business
About this event
Interested in learning more about using social media to promote your small business? As part of the Work Matters at Your Library programme, we're delighted to welcome Rebecca Kemp from Rebecca Kemp Digital Media for an online workshop on Social Media for your Business, at 11.30am on Thursday 21st of September.
Rebecca will cover:
How to use social media to grow your business
How to create effective marketing posts
Advertising and selling on social media
Creating your own video content
What social media platforms are best for business
The presentation will be followed by a Q&A.
This session will be held on Zoom. Register for the workshop and a link will be sent you before the event.
For more information visit www.kerrylibrary.ie, email onlinequeries@kerrylibrary.ie or phone 066-7121200.
Rebecca Kemp Digital Media has been in existence for the past five years, and is an independent small business run by myself, Rebecca Kemp. It was established to meet the needs of local small businesses looking for social media training and support. It has since expanded to encompass website design and build, workshops and mentoring.
Clients have included many small to medium sized Kerry businesses, such as The Rose of Tralee International Festival, Il Pomo D'oro, John Hurley Gallery, Fohntech Group, The Rose Hotel, Ballyseedy Garden Centre, The Gluten Free Kitchen Company, Gallys, Greenview Language Group, Hidden Kerry, Staycations Ireland, and Siddhartha Yoga.
An experienced website designer, and award-winning social media specialist, I started working for the Rose of Tralee International Festival in 2003. For over ten years I had responsibility for the Rose of Tralee International Festival's digital profile, including social media and online content. During this time, the Festival's social media campaigns won several awards, namely the industry gold award for Best Use of Social Media at the Accenture Digital Media Awards, the Rabo Tweetie Most Popular TV Programme, and Best Social Media Marketing from the Association of Irish Festivals and Events. For two years running I was a judge for the Cork Digital Marketing Awards.