A one hour social prescribing workshop for professionals in the County Mayo area
About this event
Do you work with clients who are:
Socially isolated
Looking to reconnect with their community to improve their health & wellbeing?
After a period of isolation during the COVID-19 pandemic, wanting to reconnect and re-engage with their local area?
At a transitional point in their life? (Such as, a recent retirement, new parent, bereavement etc)
The Family Centre through the Flourish Social Prescribing Service are creatively developing new ways to tackle social isolation and bring more courses your way, It has never felt so necessary to reconnect within and re-evaluate what we need for our own health & well-being in our changed world.
In the current climate we all realise the importance of finding our way of reconnecting with others and activities in the community while being safe and in keeping with all Government Guidelines.
Flourish is a service which, you as a professional, can refer into.
Join us on May 19th, where we will spend an hour delivering a presentation on Social prescribing and what Flourish has to offer you.
There will be time for networking and questions and answers.
CPD certificate can be issued on request.
For further information please email
flourish@thefamilycentre.com
or
lmarren.flourish@thefamilycentre.com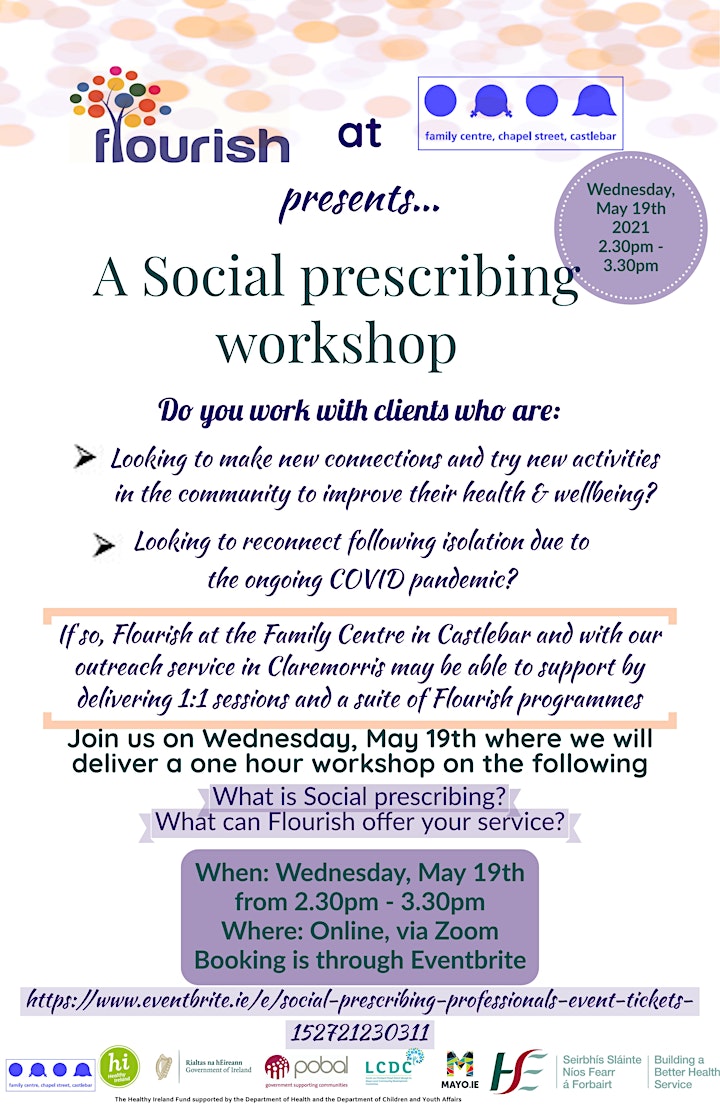 Organiser of Social prescribing professionals event