Social Rainbow Walk with GOSHH GOSHH would like to invite you to join us for an outdoor social event on Sunday August 8th at 7.30pm!
About this event
This is an opportunity for community members to find each other again and socialize in the outdoors through healthy activities.
What We'll Do
We'll meet at the Lock Quay Top Oil service station at 7.30pm to get a coffee. We'll then walk the scenic route to UL, take a short rest and walk back - a total distance of 6.5km at an easy to moderate pace.
The City Centre to University of Limerick Riverbank Walk is a shared walkway/cycleway that weaves its way through a special area of conservation along the River Shannon from Limerick City centre to the University of Limerick campus.
Seating is available at locations along the route to allow people to take a rest while admiring the beautiful surroundings.
In order to ensure that we adhere to Covid guidelines you must register via Eventbrite in advance.
If you are feeling unwell or displaying any symptoms related to COVID-19, have recently tested positive for COVID-19 or you have been identified as a close contact, do not attend this event.
Please note, we may take a photo at this event for social media but only with your consent. If you do not consent to having your photo taken please inform the GOSSH staff member on the day who will ensure they notify all attendees before any photograph is taken.
Contact communitydev@goshh.ie for more information.
Parking
On street parking is free in Limerick city on Sundays.
Paid parking available in multiple locations (Q-Park Harvey's Quay, Arthurs Quay, etc.)
Meeting Point
Lock Quay Top Oil Service Station, 1-5 Clare Street, Limerick, V94 CFA4
7.30pm for takeaway coffee, departing shortly after
Covid Guidelines: https://www.gov.ie/en/campaigns/c36c85-covid-19-coronavirus/
Please include your Name Contact Number and Email address when completing the application form.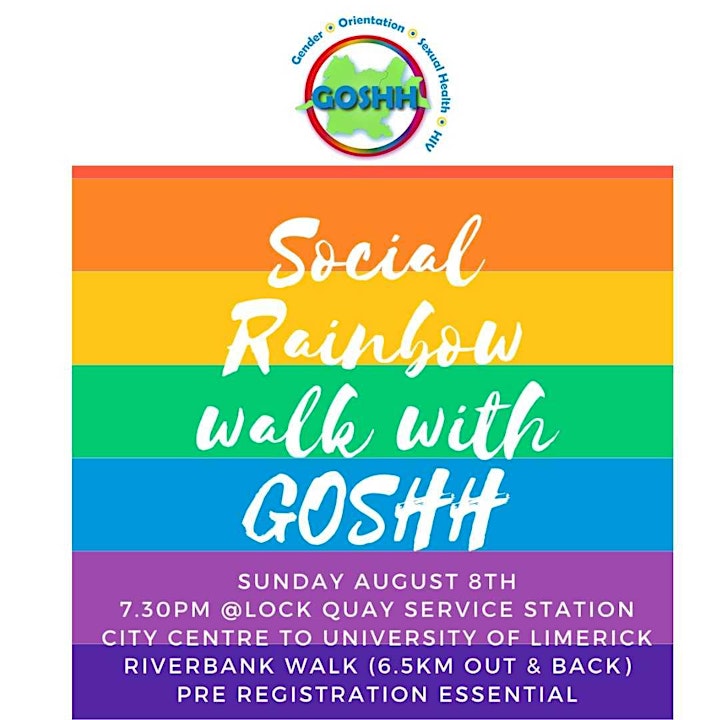 Organiser of Social Rainbow Walk with GOSHH
GOSHH is a charity which provides a safe, confidential, welcoming environment for everyone we work with.
Our office is based in Limerick City and we work throughout the Counties of Limerick, Clare, and North Tipperary. We focus on the promotion of equality and wellbeing of all with a positive and respectful approach to sexual orientation and gender diversity. 
Formed in 1989, Limerick AIDS Alliance operated   until 1994 when the name changed to Red Ribbon Project reflecting the breadth of sexual health services provided throughout the Mid-West of Ireland. Gay Switchboard Limerick was founded in 1986 and became Rainbow Support Services in 2001 reflecting the wide variety of identities supported throughout the Mid-West of Ireland.
Both projects joined together in 2013 and became GOSHH in 2014. 
Vist www.goshh.ie for more information