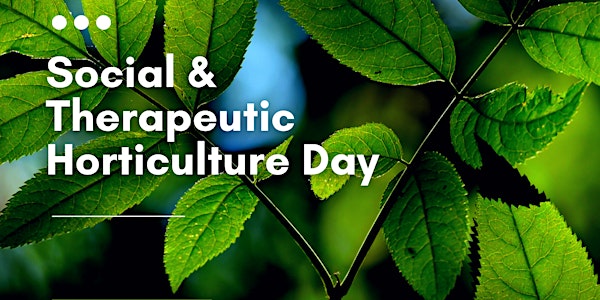 Social & Therapeutic Horticulture - Educational Day
This interactive, experiential, networking day invites both: anyone actively involved in STH or anyone who would like to learn more.
When and where
Location
Festina Lente Old Connaught Avenue A98 F702 Bray Ireland
Refund Policy
Contact the organiser to request a refund.
About this event
Social and Therapeutic Horticulture - Educational and Experiential Day on Saturday 24th September 2022 to learn more about the physical, psychosocial and mental well-being benefits of Social and Therapeutic Horticulture (STH)
The day will start with an overview of the trends in the growth and development of STH at both an international and national level. This will be followed by a presentation by well-known STH practiTIoners from across different part of Ireland. The Association of Social and Therapeutic Horticulture Facilitators Ireland (ASTHFI) will then give an overview of their work to date and explore the value of having such an association. We will then hold an Open Panel discussion – and include topics such as STH next steps: Education, training and learning for people in the field of STH, and other emerging topics.
Participants will have an opportunity explore with each how to co-create STH sessions for people from different backgrounds. The afternoon will allow participants to engage in a variety of different STH sessions for 45 – 60 minutes each. We will also exploring the potential of working with the natural behaviours of horses through equine assisted learning (EAL).
9.00-9.30 Registration – teas/coffee
9.30 – 10.00 Practical introduction to Social and Therapeutic Horticulture
10.00 – 10.20 Overview of the trends in the growth and development of STH at both an international and national level
10.20 – 10.40 Alison Digney : Horticultural Therapist : Northern Ireland Perspective
Https://horticulturaltherapyireland.ie/
10.40 – 11.00 Coralie Ryan Irresistible Outdoors, Growing Happy
11.00 – 11.30 Break – tea/coffee
11.30 - 11.50 Marina Levitina, PhD, MFSPM
11.50 – 12.10 The Association of Social and Therapeutic Horticulture Facilitators Ireland (ASTHFI)
12.10 – 12.30 Panel discussion
12.45 – 1.30 Lunch in the Walled Garden including Honey Tasting from Ollys Farm https://www.ollysfarm.ie/
1.30 – 2.30
- How to co-create STH sessions for people from different backgrounds
-Experience of a STH Session
- Experience an EAL session
2.30 – 3.30
-How to co-create STH sessions for people from different backgrounds
-Experience of a STH Session
-Experience an EAL session
3.30 – 4.30
-How to co-create STH sessions for people from different backgrounds
-Experience of a STH Session
-Experience an EAL session
4.30 Wrap up / next steps
Cost of the day is 55€ including teas/coffees and lunch. CPD points will be allocated for this day. Numbers are limited to 45 participants