Event Information
Location
Marino Institute of Education
Griffith Avenue
D09 R232 Dublin
Ireland
Sociology in Schools: International Perspectives is a joint Conference co-hosted by MIE, WIT, SAI and the PSPP Study Group.
About this event
Sociology in Schools: International Perspectives is a joint Conference co-hosted by Marino Institute of Education, Waterford Institute of Technology, the Sociological Association of Ireland and the Pedagogy of Sociology in Professional Practice Study Group. The Conference is supported by the National Forum for the Enhancement of Teaching and Learning in Ireland (to read more about the forum see: https://www.teachingandlearning.ie/).
The Sociology in Schools conference brings together international educational research and teaching experts, to debate the importance of sociology in post-primary schools in Ireland and internationally. It offers perspectives on the position of social and political education, including sociology, in the educational system of Ireland and of other countries. This Conference is driven by a shared commitment to interdisciplinary collaboration, enhancing student voices in curriculum design and development, trans-disciplinary approaches and methodological co-design.
In sharing insights from educational leaders, sociological experts, and teaching professionals, from Ireland and internationally, this symposium will make an important contribution to research on the status of disciplines in the educational system, their needs and challenges, and curriculum development and design. It will advance discussion about factors that shape effective learning and teaching of society and politics and sociology in secondary schools. Papers, posters and interactive workshops will engage critical issues pertaining to effective learning and teaching of politics, society and sociology in second level schools.
Follow the Conference on Twitter #SociologyInSchools @MarinoInstitute @Soc_Assoc_Ire @NForum
Read more about the Conference at: https://www.sociology.ie/sociology-in-schools-conference.html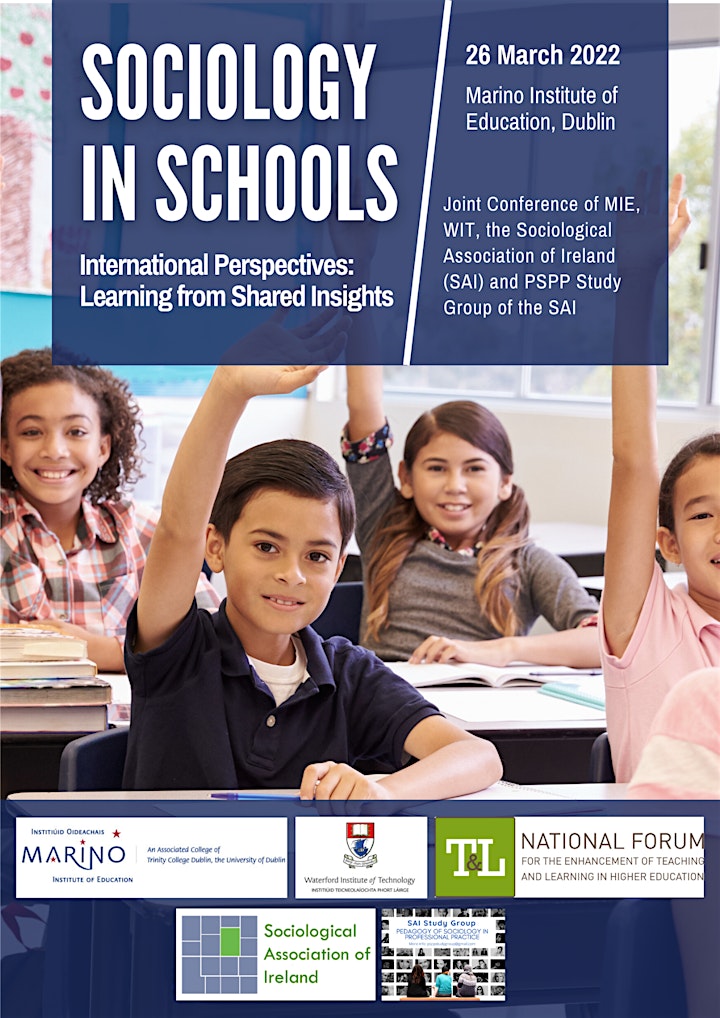 Date and time
Location
Marino Institute of Education
Griffith Avenue
D09 R232 Dublin
Ireland