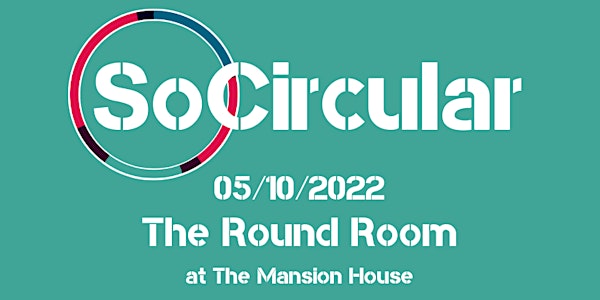 SoCircular
SoCircular – Celebrating Dublin's Social & Circular Economy Ecosystem
When and where
Location
The Round Room at the Mansion House Dawson Street Dublin 2 Ireland
About this event
SoCircular - Celebrating Dublin's Social & Circular Economy Ecosystem
SoCircular is an event to celebrate Dublin's social and circular economy ecosystem and culture. It will:
Highlight supports, resources and support organisations that can help business become more sustainable
Feature 4 panel discussions on key social / circular economy themes as part of a summit
Showcase 50 local social enterprises and circular enterprises and their products and services in an extensive trade expo
Provide networking opportunities during the networking reception and expo
Celebrate through social and circular themed arts and cultural performances
The event aims to help transform Dublin by: highlighting and celebrating the social and circular economy ecosystem and associated culture, encouraging people, businesses, organisations and government departments to buy from and support local social and circular enterprises, promoting supports to help enterprises adopt circular / sustainability approaches, and through providing a forum for conversation, insights and ideas on developing a SoCircular Dublin.
Please join #SoCircular and be part of transforming Dublin
Programme (Subject to change)
14:00-18:00
Welcome Address - Lord Mayor of Dublin, Caroline Conroy
Expo - Featuring 50 social enterprises / circular enterprises and a selection of support organisations
Expo Visit - Ossian Smyth TD, Minister of State with responsibility for Public Procurement, eGovernment and Circular Economy
Panel Discussions - SoCircular
Ecosystem Supports (Mary Fleming, CRNI; Clodagh O'Reilly, Social Enterprise Solutions; Richard Gavin, DRCD; Ross Curley, DCC/LEO; Michelle Licciardi, Social Enterprise Dublin)
Finance, Investing & Procurement (Donal Traynor, Community Finance Ireland; Eoghan Ryan, Rethink Ireland; Ingrid McElroy, National Children's Hospital; Kathy Quinn, DCC)
City Challenges & Opportunities (Dr. Deiric O'Broin, DCU; Dr. Sabrina Dekker, DCC; Caroline Power, Dublin Regional Enterprise Plan/DETE; Aidan Sweeney, Ibec; Cllr Claire Byrne)
Education, Employment & Skills (Deirdre Ní Cheallaigh, Rediscovery Centre; Natasha Kinsella, Dublin Regional Skills Forum; Dr. Lucia Walsh, TU Dublin; Bróna Ní Chobhthaigh, Business in the Community Ireland)
Arts & Culture Performances
New Brass Kings
Botanic String Quartet
Colm O'Regan
Karen Lee
More
SoCircular Stories
Ossian Smyth TD, Minister of State (Public Procurement, eGovernment & Circular Economy)
Bernie Walsh, Sunflower Recycling
Leyla Karaha, YourY Network / KPesa
Rep TBC, Rediscovery Centre
18:00-19:00
Networking Reception (Refreshments served)
Arts & Culture Performances
Further Information
SoCircular Collaboration & Support
SoCircular is led by Dublin City Council / LEO Dublin City in collaboration with Lord Mayor of Dublin Caroline Conroy and is supported by: Department of Rural and Community Development, Department of Public Expenditure and Reform, Ibec, Eastern-Midlands Waste Region, Dublin Place Brand, Dublin City Social Enterprise Committee, Irish Social Enterprise Network, Community Reuse Network of Ireland, Dublin Regional Skills Forum, Social Enterprise Dublin, Dublin City Arts Office, Rediscovery Centre, Business Spirit News, CIRCULÉIRE and various other organisations.
Dublin City Summit Series - SoCircular Summit
SoCircular is taking place as part of the Dublin City Summit Series - an initiative of the Economic Development and Enterprise Strategic Policy Committee (SPC) which is made up of councillors, industry and community representatives. Each summit brings together key stakeholders including policy makers, elected officials, topic experts and practitioners to share insights, information and perspectives in order to encourage greater collaboration, awareness and development regarding relevant policy issues and challenges facing the city. After each summit, an Outcomes Report is produced and disseminated to support future policy formulation, knowledge sharing and relevant economic development. The Outcomes Reports of previous summits are available: Here
SoCircular Policy / Project Alignment
The event is being hosted in alignment with:
European Commission - European Social Economy Regions Project & Network. The event is being hosted as part Dublin's involvement in the European Commission's: European Social Economy Regions project and network. The objective of the project and network is to build networks of Social Economy and Social Enterprise stakeholders, encourage collaboration and to raise awareness about the Social Economy at regional and local level.
Dublin Regional Enterprise Plan to 2024 in particular towards achieving: Strategic Objective 4, Enable and position businesses as leaders in Dublin's low carbon transition.
UN Sustainable Development Goals / European Sustainable Development Week 2022 / Act4SDGs. The event is being managed and hosted in alignment with and towards achieving the United Nations Sustainable Development Goals (UN SDGs) in particular: 4 Quality Education; 8 Decent Work and Economic Growth; 9 Industry, Innovation and Infrastructure; 10 Reduced Inequalities; 11 Sustainable Cities and Communities; 12 Responsible Consumption and Production.
Circular Week 2022. An international campaign featuring a series of events and initiatives devoted to the subject of circular economy and sustainable development that take place throughout Europe.
Event Recording
Photographic and video recording will take place at this event. The purpose of which will be to promote the: event and associated projects. Please refer to our standards on how data is managed at: LEO Dublin City GDPR. If you have any queries, please contact the EDO at: economicdevelopment@dublincity.ie
Event Accessibility
Accessibility / Event Support: Please inform us in advance if you require Irish Sign Language interpretation or other accessibility assistance at the event