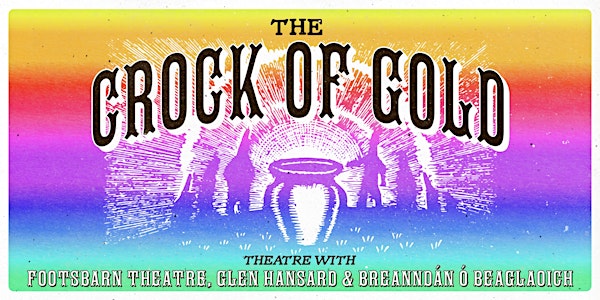 SOLD OUT :FOOTSBARN THEATRE : GLEN HANSARD : BREANNDÁN BEGLEY
MAGICAL EVENINGS FOR ALL! Theatre with Footsbarn, Glen Hansard and Breanndán Ó Beaglaoich + concerts, food, drinks and the impromptu!
When and where
Location
V92 KD3H - 450M FURTHER ON R549 TOWARDS MOUNT BRANDON - A FIELD IN WEST KERRY COORDINATES 52°13'35.6"N10°20'23.4"W BALLYNABUCK DINGLE PENINSULA V92 KD3H BOHERBOY Ireland
Refund Policy
Contact the organiser to request a refund.
About this event
In the magical Footsbarn Tent, pitched in a field in Ballynabuck, on the wild Atlantic Way you will be entertained firstly by a theatrical performance of 'The Crock of Gold' with live music by Glen Hansard and Breanndán Ó Beaglaoich. Then, after an interval enjoying the offerings of the food and drink tent, relishing views of the sea and enjoying fresh ocean air upon the land, there will be a musical concert with opening act LEMONCELLO followed by a GLEN HANSARD and friends...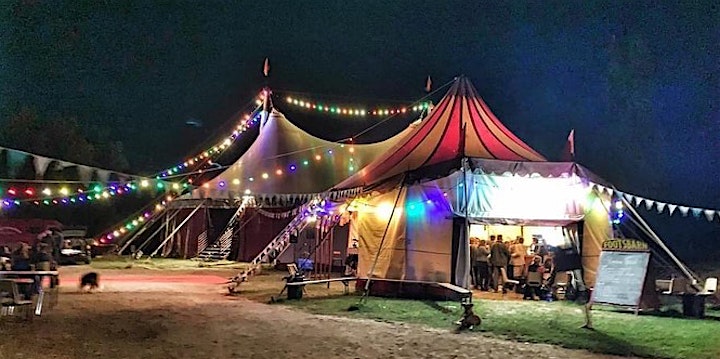 This Footsbarn Theatre production stems from a love and desire to celebrate James Stephens' unique novel, The Crock of Gold.
The essence of the idea was to create a piece of theatre with multi-national artists, which reaches way out beyond the boundaries of language, class and culture. Glen Hansard and Brendan Begley, who share the same respect for the novel as Footsbarn, came on board to write and play the original music that accompanies the performance live.
THE NOVEL
The Crock of Gold, written in 1912 by James Stephens, is a modern, dense and delectable fable.
With a comic and intricate web of philosophers, leprechauns, pagan gods and policemen, this tale leads us from darkness to light whilst asking some of life's fundamental questions:
Should one apprehend the world through thought at the expense of the heart and the senses? Can we be happy living alongside another's misery? Can we hold our heads up high while being unemployed? How can the balance of power between men and women lead to harmony?
The main character, the philosopher, leaves his family and his dark den in the forest in search of a girl kidnapped by the God Pan, free in love equally with Aengus Óg. On the way he meets a multitude of characters and incredible situations that illustrate the on-going problems of our society. His journey becomes an odyssey that will change him forever.
This unique, comic novel is a fertile mixture of Irish folklore, modern fable and mythology. Extremely funny and full of wisdom and magic, it and its author have been somewhat forgotten in the canon of Irish literature - however this sad fact has given us a terrific opportunity to restore it to the place where it should still be – a vital part of Ireland's rich cultural heritage which can only deepen the connection between people, place and the past.
This entrancing production is woven together with original music by both songwriter Glen Hansard and man of many musical talents, Brendan Begley who both appear live on stage each night throughout the performance. Together with the superb creative expertise of Footsbarn Theatre, it is a powerful collection of souls who are very well suited to bringing the magic of this piece to life on the stage and onwards to villages, towns and festivals of Ireland, English and Irish and French languages entwined, the essence of the idea to create a piece of theatre with international artists which would reach out beyond the boundaries of language, class and culture.
This show is not just aimed to all the ages of the family, but is a wordless gift to every human heart and imagination.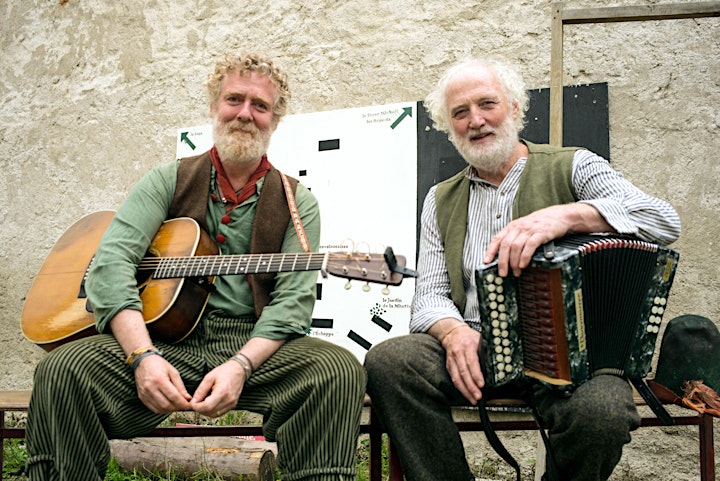 GLEN HANSARD
Glen Hansard is used to being in a constant state of motion...he is the lead singer and a founding member of The Frames. He is one half of folk duo The Swell Season, along with Czech pianist and vocalist Markéta Irglová. Together, they share an Academy Award for Best Original Song for "Falling Slowly," from the film Once, in which they both starred. More recently in his career, he has released four solo albums, as well as a number of EPs and a Live record. Glen is currently working on material for his next solo record and is delighted after waiting patiently - like every other musician - to get back in front of live audiences across the world.. For this set under the big top, we will be treated to old and new songs from Glen's extensive back catalogue and I'm sure he will be joined on stage by some friends too...
LEMONCELLO
Lemoncello comprise of University friends Laura Quirke and Claire Kinsella and together are amongst the brightest lights of contemporary Irish Music. Prodigiously talented and accomplished musicians in their own rights, together they are a unique and rare offering.
Musically, they echo the profound integrity of Folk with song writing that is modern, never anachronistic. There's a special deftness to Kinsella's Cello which weaves and underpins Quirke's vulnerably introspective and knowing lyricism delivered with gentle defiance.
Live performances are filled with chemistry and humour "intoxicating and sassy" (The Journal of Music 2020). Simply put, Lemoncello charm audiences with charisma and personality that is irresistible and comparable to the luminaries of French Chanson Brel & Piaf. Notable performances have included Other Voices, Dublin's legendary Vicar Street, CCI Paris, and Áras an Uachtaráin at the invitation of the President of Ireland.
To date, they have released Two Eps – 2018's Stuck Upon The Staircase which includes the slow burning hit Mantlepiece (in excess of 1.5 million online streams) and 2020's Oil and Water complete with House Of Cards which reflects on the temporality of human desire and need through the hard learned wisdom of youth.
ALL ENQUIRIES PLEASE CONTACT US AT feelitfestival@gmail.com
WE ARE COMPLETELY SOLD OUT FOR THIS EVENT -
WE REGRET THAT NO FURTHER TICKETS ARE AVAILABLE ON THE DOOR.