Description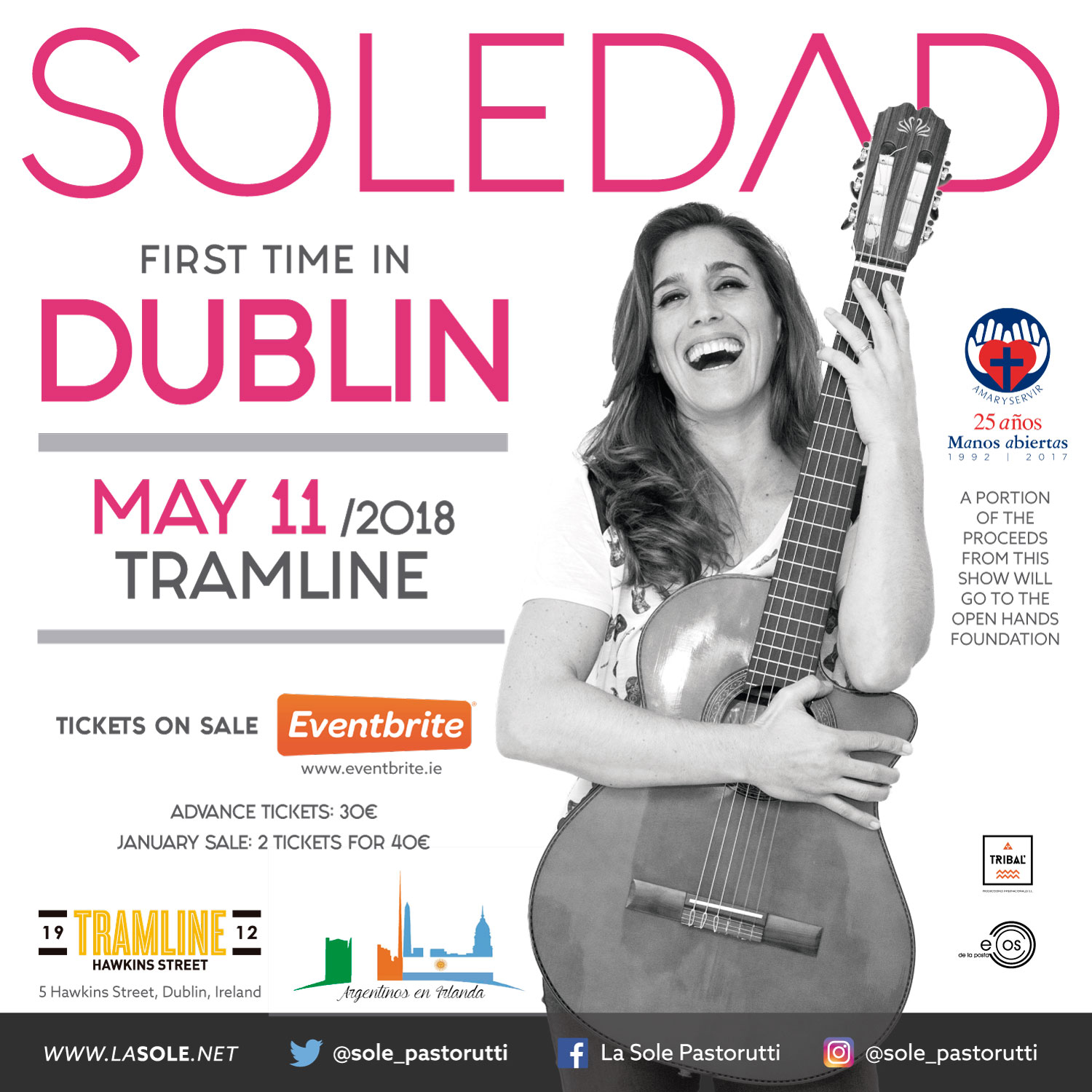 Tenemos el agrado de comunicar a toda la comunidad Latinoamericana, que La Sole ha confirmado hacer un show en Dublín como parte de su gira Europea 2018. Desde Mercedes Sosa que no aparece una voz como LA SOLE!!!
El concierto se hará el día Viernes 11 de Mayo del 2018 en el exclusivo club TramLine localizado en 5 Hawkins St, Dublin (https://goo.gl/maps/Ux6EyZKqQj82).
Las puertas abrirán desde las 8pm, tendremos algunas performances antes del evento principal que comenzara a las 9pm. Después del Show de La Sole invitamos a todos a quedarse para participar de una fiesta Latina hasta las 2am.
Tendremos promociones de Fernet y empanadas durante el evento.
Parte de las ganancias del evento serán donadas a la "Casa de la Bondad" perteneciente a la "Fundación Manos Abiertas" de Argentina. En la "Casa de la Bondad" se reciben a enfermos terminales que no tienen dinero ni familia y los acompañan en los últimos días antes de morir.
Las entradas anticipadas estarán en 30€, pero durante el mes de Enero tendremos una promoción de 2 entradas por 40€, no se pierdan esta oportunidad!
--------------------------------------------------------------
We are pleased to announce to the entire Latin community in Ireland that La Sole has confirmed a show in Dublin as part of its European Tour 2018. Since the times of Mercedes Sosa there has not been a voice like LA SOLE.

The concert will be held on Friday, 11th May 2018, at the exclusive TramLine Club located at 5 Hawkins St, Dublin (https://goo.gl/maps/Ux6EyZKqQj82).

The doors will open from 8pm. We will have some performances before the main event that will start at 9pm. After the Show, we invite everyone to stay and participate in an exclusive Latin party until 2am.

We will have Fernet Promotions and Empanadas during the event.

Part of the proceeds of the event will be donated to the "House of Goodness" belonging to the "Open Hands Foundation" of Argentina. "House of Goodness" is a hospice that receives terminally ill patients who have no money or family and are accompanied in the last days before dying.

Advance tickets will be € 30, but during the month of January we will have a promotion of 2 tickets for € 40. DO NOT miss this opportunity!