Location
Holy Family Mission, Glencomeragh House
Glencomeragh
E91 H584 Clonmel
Ireland
Solid Rock Dublin Young Adults Ministry invites you to an Holy Spirit encounter
About this event
Hey, Want to know what's the hype about? We are the Young Adult ministry at Solid Rock church (Dublin) and this is our first retreat in an amazing location here in Ireland.
We look forward to welcoming you to Glencomeragh house from the 4th to the 7th of August 2022. The theme of this year's retreat is Holy Spirit encounter. The church was birthed out of an encounter and we are the result of that encounter. We believe that there is something special about this time that God has given us to draw nearer to him. It is not just a time spent in a different place but also a time to be plugged out of the world and into God. A time of learning, growing and being equipped.
This is a three day packed moment with various activities, great speakers, amazing worship and more. Come ready and expectant, your spiritual hunger Is what God is waiting for to move in your life. Please book your ticket now as places are limited. Lets kindle our relationship with God in a peace and quiet place, in nature and away from distraction. Can't wait to you see you all.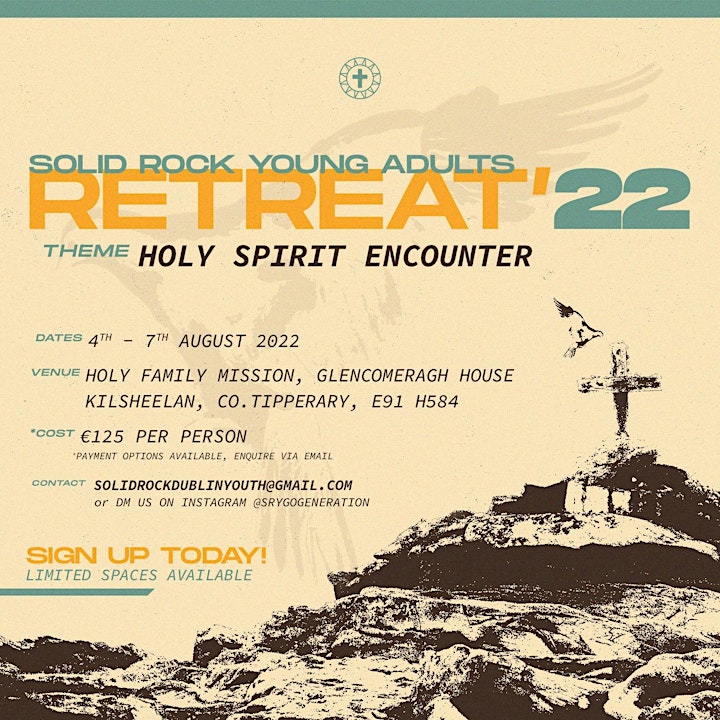 BUS LEAVES SOLID ROCK DUBLIN on Thursday, the 4th of August @ 6pm.
BUS LEAVES RETREAT VENUE on Sunday, 7th of August @8am to be back in time for service.
(ALL DAY RETREAT - Breakfast, lunch & Dinner included each day)