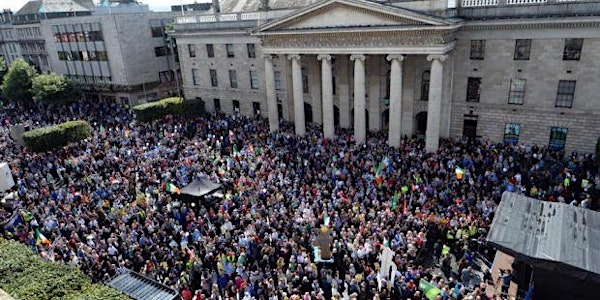 Solidarity in Ireland: Rhetoric or Reality? Research Forum
Event Information
Location
Carmelite Community Centre
56 Aungier Street
D02 R598 Dublin 2
Ireland
Description
Solidarity is a widely proclaimed value in political discourses in Ireland and within Europe. However, there is very limited analysis of what is meant by solidarity. Is it a rhetorical device to appeal to moral sentiments in their absence? How does it differ from charity and from reciprocity? There are many questions.
Drawing on research undertaken on solidarity movements in Ireland, the Forum will explore what is meant by solidarity, what undermines it in its various forms, and what facilitates it. Through the engagement of experts in the field, it will also explore the operation of solidarity in practice, in terms of the housing, health and care crises, and the financial crisis.
This forum will be of interest to community groups, NGOs and charities, policy makers, academics and individuals and activists with an interest in social justice and equality. There will be time for questions and discussion.
9:30 Registration
10:00 Keynote: What is Solidarity? Professor Kathleen Lynch, University College Dublin
10:45 Models of solidarity in Ireland: Manolis Kalaitzake, Postdoctoral Researcher University College Dublin/ Trinity College Dublin
11:10 Q and A
11:20 Panel discussion
Solidarity and Health Care: Sara Burke, Health policy analyst, post-doctoral research fellow, Trinity College Dublin
Solidarity and Housing: Rory Hearne, Postdoctoral Researcher, Maynooth University
Solidarity in Practice: Louise Bayliss, SPARK campaign and Equality Budgeting campaign
12:20 Q and A
12:40 Closing comments
Forum Chair: Dr John Bissett (Researcher and Community Worker, Dublin)
Light lunch provided
Please register if you are interested in attending. Let us know in advance if you have any accessibility requirements including ISL. Any queries, please contact Margaret Crean on m.crean@ucd.ie


Date and time
Location
Carmelite Community Centre
56 Aungier Street
D02 R598 Dublin 2
Ireland