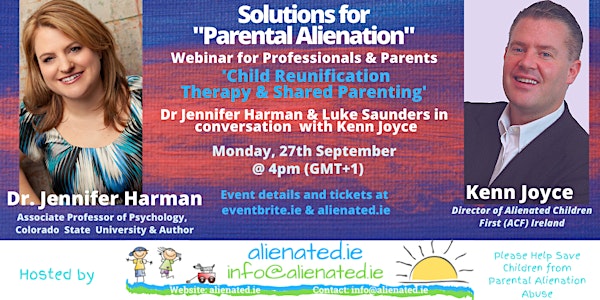 Solutions for Parental Alienation - ACF Webinar presented by Dr. J.Harman
Dr. Jennifer Harman discussing the importance of Reunification & Shared Parenting in alleviating Parental Alienation in Ireland & Worldwide
About this event
Dr. Jennifer Harman with researcher Luke Saunders will join ACF to discuss reunification and shared parenting. Dr. Jennifer Harman is an internationally renowned parental alienation expert, active researcher, author and proud mother. She is presently an Associate Professor of Psychology at Colorado State University.
Dr. Jennifer Harman has written numerous professional articles including Power dynamics in families affected by Parental Alienation - Losses experience by children alienated from a parent-Allegations of family violence in court: How parental alienation affects judicial outcomes -Gender differences in the use of PA behaviours Prevalence of adults who are the targets of parental alienating behaviours and their impact: Results from three national polls PA: The blossoming of a field of study Parenting time and child coping: The context of parental alienation-parental alienating behaviours: An unacknowledged form of family violence Parents behaving badly: Gender biases in the perception of parental alienation - Parents acting badly: How institutions and societies promote the alienation of children from their loving families. Jennifer's latest work includes co-authoring 'Evaluation of the Turning Points for Families program 'with Luke Saunders & Tamara Afifi and with Dr. Demosthenes Lorandos (2020). Allegations of Family Violence in Court: How Parental Alienation Affects Judicial Outcomes debunking Professor Joan Meier's well-publicised research on this issue.
Luke Saunders is a Graduate Student at Department of Psychology,Colorado State University. Luke undertook research in the Evaluation of Turning Points for Families Program for severely alienated children.
Kenn Joyce is a founder member of Alienated Children First that campaigns against all forms of child and domestic abuse and specifically against Parental Alienation Abuse. Kenn is a broadcaster and presenter a serial entrepreneur and a philanthropist. Kenn has a keen interest in helping to stop the discrimination against alienated victims in Ireland focusing on the voiceless, forgotten and unprotected Child Victims of Parental Alienation Abuse. Kenn has broadcast and been interviewed on this issue on radio and press; some recent examples can be viewed here:- http://alienated.ie/solutions-parental-alienation-acf-webinar-3/
Below are previous presentations made by Dr Jennifer Harman
https://www.youtube.com/watch?v=v3YdldNXZnQ
https://www.youtube.com/watch?v=WUcp1-cdJJI