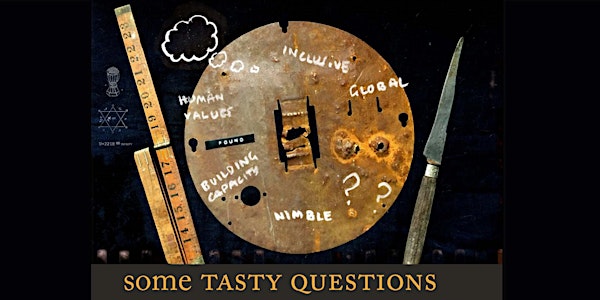 Some Tasty Questions on Organisational Development (October 2018)
Location
Lambay Room
Chartered Accountants House
47-49 Pearse Street
Dublin
Ireland
Description
Some Tasty Questions for Organisational Development in the Modern-Day Enterprise.
Hurricane Ophelia got in our way last year so we are delighted to be able to reschedule event this year (with an added speaker) and huge thanks to the Trinity Business School for their continued support.
Come along to join strategists, gringos, gringas, and organisational subersives in a stimulating conversation.
This unique event is jointly convened by the Irish Academy of Management (Strategy Special Interest Group) and the British Academy of Management (Organisational Transformation, Change and Development Special Interest Group).
It was inspired by an engagement between the two academies and a desire to engage with a pluriverse of ideas. The session will be (lightly) chaired by Professor Robert Galavan from Maynooth University and Dr Joanne Murphy from Queens University Belfast.

Speakers
Dr Liz Hayes (CEO Corporate Community consultancy firm)
Dr Anne Clare Gillon (Senior Lecturer in Management, University of West Scotland)
Prof Bill Cooke (Professor in Strategic Management, University of York)

Chairs
Prof Robert Galavan (Maynooth University)
Dr Joanne Murphy (Queens University Belfast)
The communities of practice associated with Organisational Development are diverse, and nuanced as on-going debates around the 'why'and 'how' of building organisational capacity remain live and contested. At the same time, the challenges associated with creating organisations that stay nimble and inclusive in an increasingly fragmented global context are causing a resurgence of interest in how values of human connection and more autonomous forms of organising and leadership are possible.
The conversation will engage with several 'intersections' associated with framing organisational development as a strategic tool for human resource management and/or as a starting point for 'making sense' of organisations using a framing that is more informed by context and a more provocative analysis of politics and power.
The speakers bring differing perspectives to the topic. Dr Liz Hayes is CEO of Corporate Community, a hugely respected consultancy firm with over 25 years of practice working with companies to find sustainable ways to support change. Dr Anne Clare Gillon is a Senior Lecturer in Management at the University of West Scotland and her most recent research interrogates the practice-academic divide in organisational development.
Who should attend?
The event will be of interest to strategic level practitioners and consultants engaged in organisational development, transformation or change.
It will also be of interest to academics researching and teaching in the field as it examines the reflection of academic rhetoric in practice.

Location
The event will take place on Monday 15th October in the Lambay Room at the Cartered Accountants House, 47-49 Pearse Street Dublin 2 from 9 am to 1 pm.
Tea and coffee will be available at 8.30AM and mid way though.
We are grateful for the generous sponsorship by the Trinity Business School at TCD for this event.
Booking Attendance is free, but registration is essential as places are strictly limited.