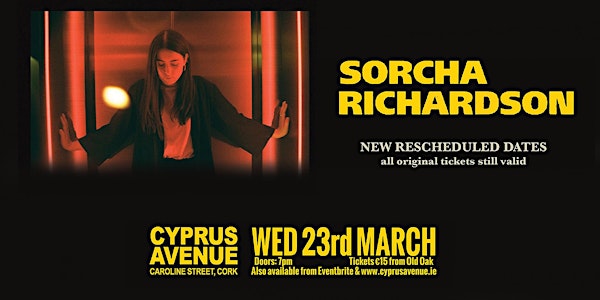 When and where
Location
Cyprus Avenue Caroline Street Cork Ireland
About this event
***Rescheduled date. Original tickets remain valid **
Irish singer-songwriter Sorcha Richardson has been cultivating a cult fanbase for several years with the release of songs such as 'Ruin Your Night', 'Petrol Station' and 'Can't We Pretend' are evocative vignettes of a moment in time which find the poetry in introspection, with a tangible nod to key influences such as Sharon Van Etten, Arcade Fire, Phoebe Bridgers and Julia Jacklin.
It's been a long road to reach this moment. Richardson left home for Brooklyn as a teenager to study creative writing. She'd assumed her background as a drummer would lead to her playing in a college band, but instead she ended up recording lo-fi demos in her dorm. Picking up traction on SoundCloud gave her the confidence that she could sing, while her studies sharpened her lyrical focus.
Her sound grew richer and more nuanced from 2015's 'Petrol Station' but the idea of making an album didn't emerge until a few years later. Having written a number of songs at her apartment in Brooklyn, Richardson fleshed out some initial demos with producer Doug Schadt in New York which resulted in early versions of 'Don't Talk About It' and 'Driveway'.
Moving back to Dublin inspired her to take stock of where she was. A new rush of ideas soon followed, with Richardson writing the likes of 'False Alarm' and 'First Prize Bravery' on the piano in her parents' kitchen. An impromptu session with All Tvvins' Conor Adams yielded 'No-One Is Any Fun', which features on their album 'Just To Exist', and 'Twisting The Knife' which is included here.
The final piece in the puzzle took an almost interventionist turn. Richardson was visiting friends in Los Angeles when she ran into Alex Casnoff, the producer of several of her singles and previously a member of the bands Dawes and Harriet. He'd been focusing on film projects rather than music, but the pair reignited their connection with Casnoff coming on board to produce the entire record. They completed the album within a month, with Richardson contributing vocals and guitar, and Casnoff synths and piano. Further contributions came from friends that Casnoff had met in the Los Angeles music scene.
Touring in Ireland resulted in the realisation that "the songs that are the most fun to play are the ones that feel most like a band", which inspired the album's live, guitar-based core. Those live elements are also important within every track, regardless of how big or small the arrangement was.
The skybound, multi-layered 'Oh Oscillator', for example, represents her desire "to push the boundaries of how we arranged songs and to use traditional instruments in unconventional ways," but still resonates when performed with just vocals and a piano. And she was eager to allow elements of the sound to exist as they happened, rather than polishing every precise detail to perfection. 'Red Lion' is a case in point, featuring live vocals recorded during a rehearsal.
As her songs look back, it's fitting that this album represents Sorcha Richardson's future. "Releasing singles was fun because I felt a lot of freedom move around creatively. But I'm excited to present a more 360 version of what I have in my head. It lets me tell a more complete story."