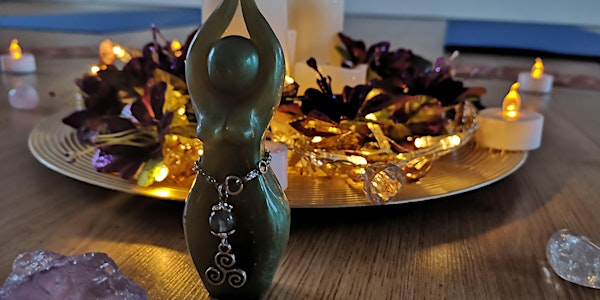 Soul Circle
A women's healing and meditation circle
Refund Policy
Contact the organiser to request a refund.
About this event
Have you been struggling or suffering or feel a bit lost physically, mentally, emotionally or spiritually? You are not alone. Life is always teaching us new lessons but sometimes we get knocked to the floor and we just don't know if or how we will get up again.
With some soul work, courage, support and a tribe of soul sisters behind you, you will be encouraged and empowered to take the reigns of your life once again. You will be encouraged and empowered to consciously, intentionally and purposefully realign with your heart and soul as you get up and move forward.
Soul Circle is a women's meditation and healing circle, celebrating the divine feminine within us all. At each circle we will take the time to reconnect with our soul and our soul's journey in life. We have been meeting since 2018 in Dublin 15 and online since 2020.
We will connect with ourselves and the other beautiful women to listen, to support, to guide and to encourage each other to live our lives to the fullest and to shine as brightly and as boldly as only we can – be it as mothers, as professionals, as partners, as healers, as visionaries, as women!
Each week I will hold space for you to reconnect, realign and remember your true self.
I want you to tune into your soul and listen to her whisper or cry of what it is she truly wants and needs at this time.
I want you to remember and know your worth.
I want to know that you are seen, heard and supported in each circle.
I want you to shine as the true beautiful soul that you are, unconditionally and apologetically!
Within the circle we listen, support, empower and learn from each other as we connect through discussion, reflection, journalling and always finish with a 20-30 minute guided visualisation/ healing meditation.
As women we are encouraged all too often to judge each other, to disapprove and pass comment on other women, our sisters. My hope is that we can shift from this fear and judgement to love and empowerment for the fierce and beautiful women in our lives and those we meet along the way.
We meet fortnightly and we discuss a range of topics that allow us to peel back the layers, remove the masks and knock down the barriers that are stopping us from living a life of value, purpose, truth and joy.
We chat openly about the different themes and topics each week, however, there is no expectation or pressure for anyone to speak. If you prefer to listen and take it all in, then this is perfectly fine. You take what you need from each circle and leave the rest.
This is not a space where we will encourage you to stay stuck in the same narrative, reliving and retelling the same stories of pain and challenges over and over again. These circles are about growth, empowerment, healing and transformation. Of course we will share our experiences as we discuss the topics to deepen our understanding as this then will empower us to implement change in our life and overcome the barriers holding us stuck.
We love to invite new women to join and don't worry if you're nervous to join or worried to join us solo – be brave and follow the call of your soul.
Melanie xxx