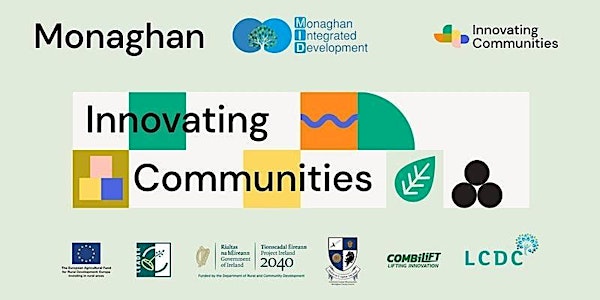 South Monaghan Idea Generation Workshop - Innovating Communities
Join this workshop to generate ideas in the South Monaghan area which could lead into some free Innovating Communities Courses
About this event
Join us for a free Ideas Generation Workshop for community groups, individuals and businesses in the South Monaghan area. Let us get together to develop solutions to challenges you identify in your area.
This will take place online, via Google Meet. Link to follow.
Through the Innovating Communities project we can then assist your area by providing a free course to tackle these challenges using Design Thinking (the method we'll be teaching participants to create solutions) and ask you to put forward ideas based on local challenges and opportunities that you see in South Monaghan and its surrounds. For potential Challengers, we'll describe the commitment of a 21 hour Sprint Course and the 42 hour Marathon Course and hope to focus your ideas into a Course related to the Challenges you see around you.
The event shouldn't take much longer than an hour so please get involved and let your ideas flow!
For more info, visit www.innovating.ie
Feel free to contact Collette cmentee@midl.ie / 087 176 1732
If you're not from the South Monaghan area and wish to host an Idea Generation Workshop in your local area, get in touch!