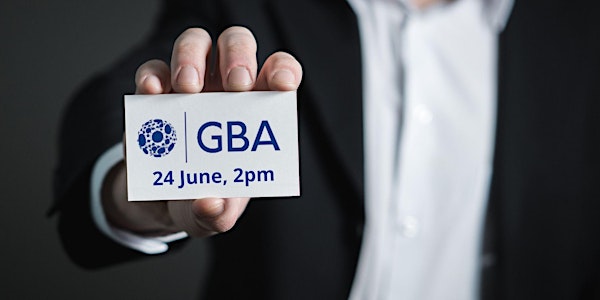 Sovereign Identity in a Blockchain World - Solution or Revolution?
With the power of blockchain technology we can transform identity management and harness the power of data.
About this event
Join us for a fascinating panel discussion with four leading speakers in Blockchain and Digital identities. Blockchain technology can help to protect sensitive information. With the power of blockchain based identity we can transform how our data is used across many industries: finance, banking, travel and healthcare are just a few industries that can use this break through technology.
It can help to map your physical identity to your digital footprint, allowing for reduced checks for proof of identification and enabling easier management of records and certificates.
Think about your online banking, when you want to upgrade your insurance, filing your taxes, booking flights, scheduling medical appointments: these processes become seamless with the use of blockchain technology.
SPEAKERS
Rob Leslie - CEO and Founder of Sedicii
Rob is a World Economic Forum Technology Pioneer. A qualified engineer, he has been the primary driver of the company and has successfully gained recognition for Sedicii at a significant number of technology and innovation competitions.
Shiv Aggarwal - CEO and Founder of Earth ID
Shiv is a global thought leader in the identity and blockchain space with over 16 years of industry experience. He has been a keynote speaker at various international conferences, including at US capitol and UK parliament. He is also leading government blockchain association in UK & Europe.
Adam Bouktila - Founder and CEO of DMerch.io
Since 2018 Adam Bouktila has been involved in multiple blockchain projects and initiatives. Adam is the founder and CEO of dMerch.io, an NFT agency service that helps businesses, brands and artists build their digital strategy and provide unique content to their communities. Adam is also a member of the founding team at Europechain.io, an enterprise blockchain service provider with a number of tools and solutions geared towards reducing complexity and lowering the barrier to entry to blockchain. Adam is also a member of the management team of eos Dublin, a blockchain infrastructure provider which supports multiple different chains.
Simon Cocking - Editor and Global Influencer for Fintech, Blockchain and Data Security.
Simon Cocking is Senior Editor at Irish Tech News, and freelances for the Sunday Business Post, The Irish Times, The Southern Star, and Dublin Globe among other publications. In 2016 he was been named on 3 lists of global influencers to follow for fintech, blockchain, and data security. He has been based in Ireland for 20 years. He has founded four companies, and introduced one national sport to the country. Along the way he's met a lot of great people in Ireland and enjoys working in and writing about the Irish and global fintech scene.
Paula Mare Kilgarriff - Global Retail Innovation and Emerging Technologies Lecturer
Paula Mare Kilgarriff is a Global Retail Innovation and Emerging Technologies lecturer at Technological University Dublin, Programme Director of Alsessor AI Accelerator by Altada Technology Solutions and Tangent Trinity College Dublin and a member of Blockchain Startup group Ireland. Paula is involved in multiple blockchain and AI/XR/VR projects in the Hospitality, Retail & Fin-Tech sector and has returned from China in 2019 after working in the in the international Luxury Fashion & Lifestyle eCommerce industry.