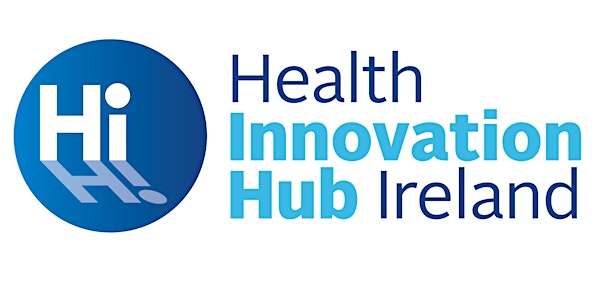 Spark Ignite Dublin Final
Spark Ignite Dublin Final
About this event

Health Innovation Hub Ireland's Spark Ignite is the only staff-facing, bottom up, innovation competition available to the 115,000+ HSE employees. Its mission is to enable HSE staff to validate unmet needs in healthcare, determine if a market or need exists for their proposed solution, product, or service to meet that need, and to support the further development of those ideas.
This year over 150 applicants submitted their ideas for review to win a spot on a mini-accelerator course. From this 36 finalists were chosen in total from Cork, Dublin and Galway. These finalists were brought through this process of developing their pitch for their idea.
Now, each of the finalists has to pitch in front of an experienced panel of judges in their region.
The winners will receive funding to develop their ideas and will receive on-going mentorship from HIHI.

Health Innovation Hub Ireland is a joint government initiative funded by Enterprise Ireland and supported by the Health Service Executive (HSE) to enable healthcare staff across all disciplines and departments to validate their ideas for innovative solutions, products, services, and process improvements for unmet needs in healthcare. Health Innovation Hub Ireland provide commercial, technical, and clinical feedback on ideas from the healthcare community, and help determine the best way to make them a reality.
Health Innovation Hub Ireland support indigenous businesses and entrepreneurs with early stage or developed solutions by facilitating access to the healthcare professionals qualified to validate their solutions. By means of user feedback sessions or pilot studies, companies and entrepreneurs receive invaluable information on the challenges their solutions must address to gain market acceptance and entry.
Health Innovation Hub Ireland has a national remit with offices in Cork, Dublin and Galway. In Dublin the Health Innovation Hub Ireland is partnered with Trinity College and based in St James' Hospital.
Meet the Dublin Finalists
Dr Ruth Comer, Rory Nee, Inas Ragab
Consultant Geriatrician, Medicine for the Elderly Registrar
St. James' Hospital​
Our innovation is a flexible, patient-centred approach to the use of gerontechnology to maintain older adults in the community at home and independent.​
Dr Allesandra Biagini
Paediatric Senior House Officer in Basic Specialist Training
Royal College of Physicians Ireland
My innovation is a software which can be used to detect fatal distress.​
Noeleen Bourke , Fiona Keogan
Clinical Specialist Physiotherapist
Mullingar Frailty Intervention Team
Our innovation is to introduce a virtual rehabilitation for older people with an age appropriate monitoring device.​
Grainne Gibson
Senior Physiotherapist
Cavan/Monaghan Hospital Group
My innovation is an attachable upper limb component for standard walking frames to facilitate gait re-education and promote upper limb recovery in a stroke patients​.
Andrew Fitzgerald
Physiotherapist Assistant
St James' Hospital, Dublin
My innovation meets an unmet need for patients who use incontinent pads​.
Adele Ward
Pharmacist
Tallaght University Hospital, Dublin
My innovation is an e-learning programme to empower healthcare professionals to identify patients who do not take their medication as prescribed and to tailor adherence-enhancing interventions to patient-specific barriers.​
Barbara McGrogan
Research and Biomedical Scientist
National Cancer Control Programme, Dublin
My innovation is to develop a UV Alert System to raise awareness of the UV index (UVI) and promote sun protective behaviours in the outdoor​ worker setting.​
Dr Doireann O'Flaherty
Consultant Anaesthetist
Rotunda Hospital, Dublin
My innovation will see the implementation of a quality improvement clinical pathway for enhanced recovery after caesarean section deliveries.​
Helena Belgley, Fergus Guilfoyle , Alison Harper
Senior Scientist in Blood Transfusion,Naas General Hospital, Chief Medical Scientist , The Coombe Womens and Infants University Hospital , Dublin , Chief Medical Scientist , Tallaght University Hospital, Dublin
Our innovation is a weekly blood exchange programme to use blood stocks more efficiently.​
Dr Maria Cheung, Dr Gillian Ryan
Obstetrics and Gynaecology Registrar
National Maternity Hospital
My innovation will see the development of an economical simulation model for complex fetal procedures.​
Siobhán Ryan
Medical Student
Royal College of Surgeons Ireland, Dublin
My innovation is a pressure detection device designed for use on an operating theatre table to improve the current standards for intraoperative pressure care.