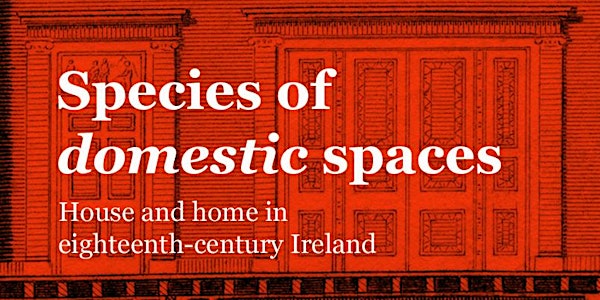 Species of Domestic Spaces: House and Home in Eighteenth-Century Ireland
Convened by Conor Lucey, School of Art History and Cultural Policy, UCD
About this event
In his 1974 essay 'The Apartment' (published in Species of Spaces), author Georges Perec imagined a typical late twentieth-century apartment in Paris, and the various ways in which its rooms were inhabited (and corresponding rituals were performed) over the course of a working day: at various times the protagonists of the family (mother, father, child) occupy rooms singly (bathroom, kitchen) and collectively (sitting room, dining room). Essentially a literary exercise on the mundane, the text nonetheless deliberates on the adaptable functions of, and relationships between, discrete domestic spaces in an effort to counter the 'very precise ideas' routinely imposed by architects, builders and urban planners.
Taking its cue from Perec's short, idiosyncratic essay, this one-day conference seeks to explore the functions and narratives of domestic space in Georgian Ireland. While the design and decoration of the country pile and the aristocratic town house enjoys a long and distinguished literature, and issues of domesticity continue to gather momentum in academic scholarship, to date there has been no sustained examination of how rooms were habitually occupied and experienced, or how different social demographics – not least the burgeoning 'middling sorts' – might have informed approaches to spatial design and functionality during the course of the long eighteenth century.
Drawing on recent pioneering research, the individual papers of this conference will address multiple issues, ranging from mercantile homes in provincial cities to the lodgings and tenancies of single individuals; and from the gendered making of house and home in town and country, to the spaces and material cultures of pregnancy and maternity.
PROGRAMME
09.00 WELCOME
09.10 OPENING ADDRESS
Niall McCullough, McCullough Mulvin Architects
09.35 SESSION 1
Making a castle a home: Dublin Castle as a residence, c.1684–1801
Rachel Wilson
A male domain? The dining room reconsidered
Patricia McCarthy
Brought to bed: the spaces and material culture of maternity in the eighteenth-century household
Emma O'Toole
10.40 Q&A
11.00 COMFORT BREAK
11.30 SESSION 2
Material impact: furnishing, fitting-out & functionality in the aristocratic house
Melanie Hayes
The merchant house in eighteenth-century Drogheda
Aisling Durkan
'Plain as becometh the truth': piety, comfort and display in the Quaker home
Sarah Foster
Communality versus privacy: arrangements of personal space in rural domestic households to 1830
Claudia Kinmonth
12.55 Q&A
13.15 LUNCH BREAK
14.00 SESSION 3
Entertaining royalty after the Union: space, decoration and performance in a recently completed Gothic castle
Judith Hill
'A taste for building': domestic space in elite female correspondence
Priscilla Sonnier
Single lives, single houses
Conor Lucey
15:00 Q&A
15.30 CONCLUSION