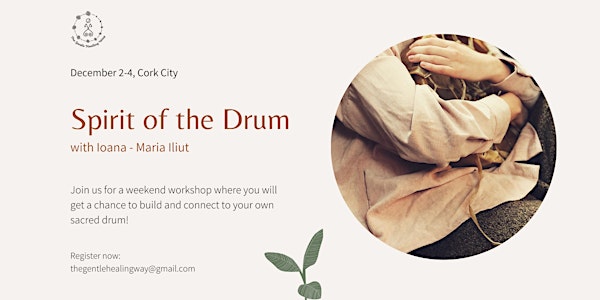 Spirit of the Drum - Drum Building Weekend
Join us for a weekend workshop during which you will build and connect to your sacred drum and its medicine.
When and where
Location
Cork cork Cork Ireland
Refund Policy
Contact the organizer to request a refund.
About this event
The drum has been part of the life and spirituality of most cultures around the world since the beginning of time.
The stories that talk about the origin of the drum have been passed down for centuries in the different tribes and cultures.
We will share a part of these stories, together with the spiritual teachings connected to the drum.
* You will build your own ceremonial drum, according to your own vision and under Ioana's guidance.
* You will learn a series of ancient songs that are deeply connected to the drum.
* You will learn how to "feed and water" your drum, as the drum too has a life, just as we do.
* You will learn how to take care and protect your drum, both physically as well as spiritually.
* You will learn different drum beats and their significance, as well as their use by native people.
* You will be guided to find your own healing with the help of the appropriate songs and drum beats.
* You will learn about the way in which you can decorate your drums and rattles with sacred symbols, in order to deepen the spiritual connection.
* You will learn about the blessings, but also the responsibility that one carries in order to be called a drum keeper.
* You will have the opportunity to discover your own song and - more than anything - you will discover how to connect with and recognize the individual spirit of your drum and/or rattle.
We will provide you with all the materials needed to build your drum as well as your drum stick.
Please bring little objects that you might have a strong connection to or that have meaning to you and that you might want to use to decorate your drum.
If you should bring your own stick that you want to use for your drum stick, please make sure that it is harvested in a good way, after having asked for permission from the tree and land that it grew on.
Join is for this intensive workshop and rediscover the connection to the heartbeat of Mother Earth.
About Ioana Maria:
Born and raised in Sibiu, Romania, I was raised in the spirit of music, but also in the spirit of maintaining our traditional customs. I have always had a sincere interest towards the different cultures and traditions of this world.
Because of this interest doors were opened towards the world of indigenous people around the world.
For the past 17 years I have worked and I keep working with spiritual leaders from North America, South America, but also Europe, which allows me to create bridges between the world of ancient teachings of the indigenous world and the Western world.
I dedicate my life to the spiritual paths of ancient wisdomkeepers and I approach these teachings with much dedication and respect, by doing so trying to maintain the dignity of these centuries old traditions and ceremonies.
Since 2011, I have been dedicating my life exclusively to this way of life, that I try to share in the best way that I can, without losing close contact with my elders and ceremonial family.
In the work that I do, we will share ideas, knowledge, ceremonies, feelings, experiences, we will feel united and understood, we will talk about those things that our spirit needs to release and we will find our freedom and vitality, but most importantly, we will share at each participant's own pace, with no pressure or judgement, in the most gentle and - why not - fun way possible.
If you wish to know more information about me and the work that I do, you can find it here: https://thegentlehealingway.wordpress.com/
Schedule:
Friday: 18:30 - 21:30
Saturday and Sunday: 10:00 - 18:00 (with lunch break and comfort breaks)
Costs: 270 Eur. This includes all drum building materials and snacks, but does not include lodging and lunch meals.
Because we need to purchase all the materials in time, we require a non-refundable deposit of 80 E, due by the 15th of November. This will also secure your place for the workshop since the number of participants is limited.
You can pay your deposit here, on Eventbrite for an extra fee, or through Paypal or AIB.
For registrations and additional info, please contact us at: thegentlehealingway@gmail.com
I am looking forward to sharing the sacred space with all of you!