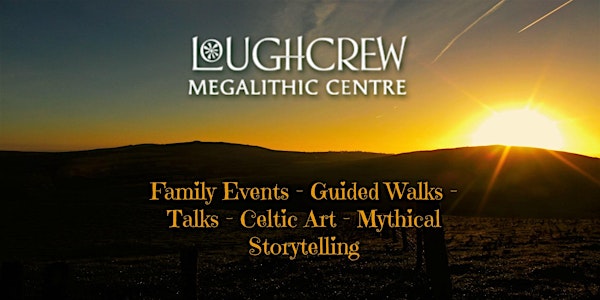 Spring Equinox Sessions Day 2
When and where
Location
Loughcrew Megalithic Centre Oldcastle Ireland
Description
The Loughcrew Equinox 19th 20th and 21st of March 2017
The Equinox is a magical time at Loughcrew when crowds gather to witness the 5,000 year old alignment of the sun and Cairn T. Experience the powerful atmosphere at these Ancient Passage Tombs shared by locals and visitors. Enjoy the breath-taking rich green scenery from the highest point in the Valley of Kings. Some say it's the best kept secret in the Boyne Valley & Ireland's Ancient East.
Spring Equinox Sessions @ Loughcrew Megalithic Centre
11.30 – Children's Art with Little Artist Studios - €5 (Book via 085 2744557)
14.00 to 15.30 – Let's Talk & Walk the Cairns will be presented by Malachy Hand and Tina Halpin, co-authors of: Loughcrew Cairns, A Visitors Guide.
- Children's Short Animated Film: Conan & The Mystical Magical Light of Loughcrew by Kitchen Cupboard Productions
- Talk on the Loughcrew Cairns
- Guided walk up to the Cairns
16.30 – Equinox Art Exhibition – Your chance to meet with & discuss the techniques and inspiration of our Equinox exhibitors.
19.00 - Ancient Echoes - Courtney Davis explains the inspiration behind his Celtic art, followed by mythical storytelling by Treasa and musical accompaniment by Phil.