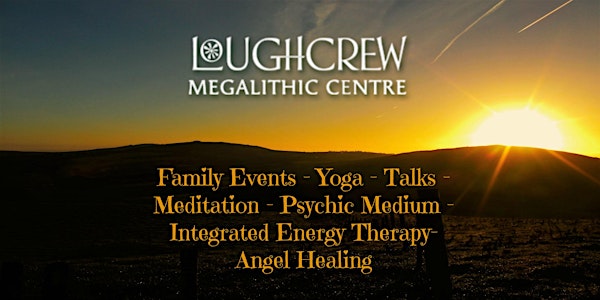 Spring Equinox Sessions Day 3
When and where
Location
Loughcrew Megalithic Centre Corstown A82 A6N7 Oldcastle Ireland
Description
The Loughcrew Equinox 19th 20th and 21st of March 2017
The Equinox is a magical time at Loughcrew when crowds gather to witness the 5,000 year old alignment of the sun and Cairn T. Experience the powerful atmosphere at these Ancient Passage Tombs shared by locals and visitors. Enjoy the breath-taking rich green scenery from the highest point in the Valley of Kings. Some say it's the best kept secret in the Boyne Valley & Ireland's Ancient East.
Spring Equinox Sessions @ Loughcrew Megalithic Centre
Sun 19th March
08.30/9.00 – Let's Talk & Walk the Cairns will be presented by Malachy Hand and Tina Halpin, co-authors of: Loughcrew Cairns, A Visitors Guide.
- Children's Short Animated Film: Conan & The Mystical Magical Light of Loughcrew by Kitchen Cupboard Productions
- Talk on the Loughcrew Cairns
11.00 – Yoga for Balance with Marion Gilsenan – Take an hour to embrace the balance of the equinox and bring this balanced flow into your day & life - €15 (Book via 087 6524827)
13.00 – A Mediation with Sandra Nelson – Join Sandra on a journey to meet the Cailleach €15 (Book via 087 7451723)
13.00 – Dawn is a Psychic Medium who can communicate with loved ones in Spirit and with the use of cards and intuition can see and predict future events - €15 (Book via 086 2758553)
15.00 to 18.00 – Sessions in Integrated Energy Therapy and Angel Healing with Mary, Vickie & Eddy. IET is one of the next generation , power energy therapy systems that gets the ''issues out of your tissues'' - €20 (Book via 087 6566421)