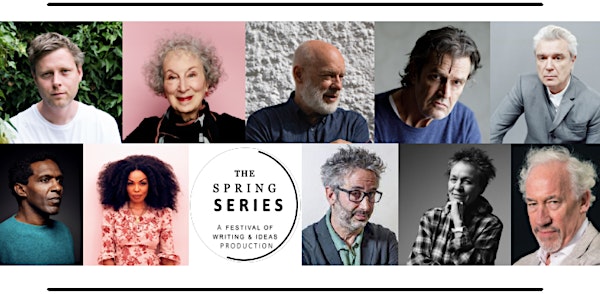 Spring Series - a season of seven online talks, live or on playback
A brand new Spring Series of seven online conversations with writers, musicians, actors, and activists
About this event
The Festival of Writing & Ideas team presents a new season (running throughout May and June), further tonic for the culturally curious while we bide our time until we can meet again in Borris House.
Included in the series will be actors Rupert Everett and Simon Callow, musicians Laurie Anderson, David Byrne, and Brian Eno, writers Margaret Atwood, Max Porter, Emma Dabiri, David Baddiel and Lemn Sissay.
Although it may change, this is the current schedule:
RUPERT EVERETT AND SIMON CALLOW: "Be yourself; everyone else is already taken."  [AVAILABLE TO WATCH NOW]
LAURIE ANDERSON AND BRIAN ENO: Sculpting Sounds and Embracing the Unconventional [AVAILABLE TO WATCH NOW]
DAVID BADDIEL AND ALAN YENTOB: Humour as a form of rage: culture wars and comedy [25 May at 6.30pm]
MARGARET ATWOOD AND MAX PORTER: 'A word after a word after a word is power.' [31 May at 6.30pm]
EMMA DABIRI AND LEMN SISSAY: The Myth of Race: Interrogating Whiteness and Concepts of Identity [3 June at 6.30pm]
DAVID BYRNE AND LAURIE ANDERSON: A Glimpse of New York City: Art Now [9 June at 6.30pm]
SURPRISE [14 June]
------------------------------------------------------------------
This season follows on from the Winter Series, which presented conversations between Stephen Fry and Colm Toibin, Bob Geldof and Rory Stewart, Chrissie Hynde and Fiachna O Braonain, Antony Beevor and Christina Lamb, Ruby Wax and Alaistair Campbell, Carl Bernstein and Fintan O'Toole, and Ayelet Waldman and Philippe Sands. All these can be seen on playback here.