Actions and Detail Panel
Sri Rama Navami Celebration 2017 (Free Event)
Sat 8 April 2017, 08:00 – 18:00 SST
Description
FAQs:
What is the time of Kalyanam?
Kalyanam starts @ 8:00 am
Muhartham / lagnam @ 12:00 am
Food/Prasadam - 12:30 to 13:30
Indian wedding style serving, table seating
Cultural / quiz programs till 16:30
Is there any Ticket for the event?
Yes - you need to register at Eventbrite and it is fully free including food.
Why do we need to register?
Two reasons -
1) to comply with the property insurance policies who ever visiting the place need to be registered.
2) we know how many people are coming for the event , so that we can plan and prepare well to serve you better.
Is Facebook registration ok?
No, we are treating Facebook registration for headcount perspective and it is difficult to know the family sizes and get an advance estimate. Facebook registration not considers for insurance compliance.
I am coming to Kalyanam @ 11:00 do I need to register?
Yes - if you are coming in the morning or in the afternoon you need to register.
Are you going to stop the registrations?
We have a capacity limit of 1000. Once we reach the capacity we shall stop the registrations.
Are we allowed without registration?
Without Eventbrite registration you are not permitted in the hall. Please note that this is hall insurance policy.You need to bring along Eventbrite confirmation mail.
What happens if I Lost Eventbrite confirmation email?
If any case registered mail lost, please email us iicaireland@gmail.com, we will resend the registration confirmation email.
How do I donate if I want?
Currently we are self-funded by our team / patrons for the entire event for the year 2017. Any donations / any offerings to the god , you can contribute in the Harati / as wedding present in the plate that will be given by the Priest or we shall have a Hundi .
How do I help in this Kalyanam?
If you are have some free time in the Saturday morning and enjoy the Lord Srirama wedding fully - you can be part of our volunteer group by registering at below page ... ( we will call you before the event one day to explain the roles and activities ) and encourage your friends to join as volunteers too..
http://www.iicaireland.org/contact.html
What are my transport options getting to the event?
1) By Car:
Google Map link: https://goo.gl/maps/UGk3VnmcR7m
This link will take to the Main entrance of the Alexandra College. You will see direction marks to the venue. If you wish, you can use Park + Ride at Stillorgan / Sandyford Luas stops.
2) By Tram (Green Luas):
Stop: Milltown
A minute walk to reach the venue: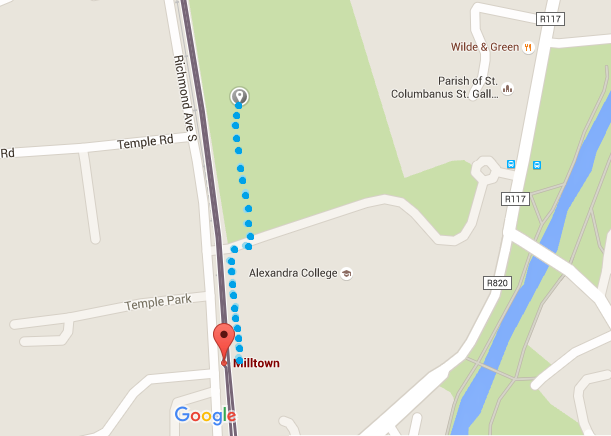 3) By Bus:
Stop: Alexandra College (Busstop ID: 2998 & 2817)
Bus No: 44 and 61
3 minutes walk to reach the venue: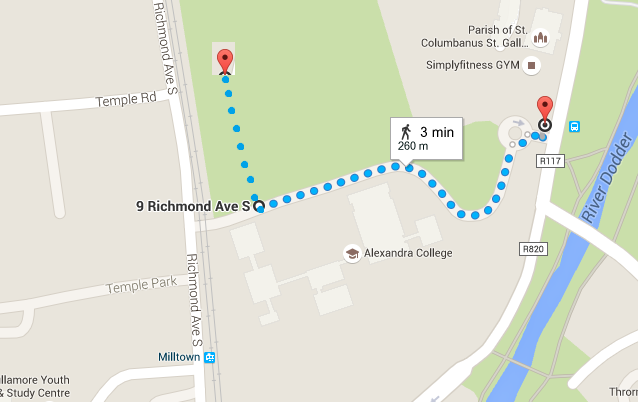 If you have more questions?
Contact: iicaireland@gmail.com
+353 86 347 9902 / +353 86 806 5382
---