Description
What is Intelligent Data Integration? SSIS packages developed using tried and true design patterns, built to participate in a DevOps enterprise practicing DILM, produced using Biml and executed using an SSIS Framework.
Attend a day of training focused on intelligent data integration delivered by an experienced SSIS consultant who has also led an enterprise team of several ETL developers during multiple projects that spanned 2.5 years. And delivered.
Attendees will learn:
- a holistic approach to data integration design.
- a methodology for enterprise data integration that spans development through operational support.
- how automation changes everything. Including data integration with SSIS.
Topics include:
1. SSIS Design Patterns
Data Flow Performance
ETL Instrumentation
2. Executing SSIS in the Enterprise
The SSIS Catalog - the good, the bad, and the ugly.
3. Custom SSIS Execution Frameworks
4. DevOps and SSIS
A (Condensed) Sprint in the Life of a Data Integration Solution
Version Control and SSIS
5. Business Intelligence Markup Language
A Brief Introduction to Biml in the free utilities, BimlExpress and BimlOnline
6. SSIS Design Patterns + Biml
Putting the DILM (Data Integration Lifecycle Management) components together.
7. SSIS Design Patterns + Biml + Custom SSIS Execution Frameworks
Executing the new combinations.
8. SSIS Design Patterns + Biml + Custom SSIS Execution Frameworks => DevOps
Enterprise-class data integration with SSIS.
The target audience for this course is data integration developers and architects who want to learn more about SSIS performance, DevOps, execution, and automation.

Schedule

Registation is from 08:15am

Class is from 9:00 to 18:00 with coffee breaks and lunch
Organiser of SSIS Design Patterns and Biml: A Day of Intelligent Data Integration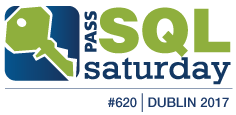 SQL Saturday Dublin (Web | Twitter) is Irelands largest Annual SQL Server event with over 600 registrations each year, with some of ther best speakers and sponsors from the SQL Industry across the globe. 
It is a non-profit community event with any funds raised on training days used to pay for speakers and finance the FREE SQL Saturday event on June 17th, 2107 at Trinity College Dublin. Whether you are attending a training day, please register early and let your friends and colleages know.
http://www.sqlsaturday.com/620