Location
Bray Seafront
53 R766
Bray
Ireland
Secret Escape to South Dublin's coast. Discover your home away from home and join us on the perfect staycation walk for the whole family.
About this event
Explore Dublin's hidden gems and beautiful coastal line while escaping your daily hustle and bustle. Along with old harbours, beaches and palm trees, you might even get lucky enough to spot a seal.
On this walk, your payment, apart from the transaction fee collected by Eventbrite, will go directly to our charity partners. For this walk it is the Irish Camino Society. Thank you for joining us in this contribution!
This is a flexible 29 km walk from Bray Seafront to St James Church in Dublin City Centre.
We're meeting at Finnbee's Coffee House on Bray Seafront at 9:00 am for some light stretching and a brief introduction to the tour.
The Dart is following our route most of the time, so you can easily join in later or leave earlier if preferred.
Basic Info:
Difficulty: Moderate (flat but long)
Length: 29.2 kilometres
Meeting point: Finnbee's Coffee House on Bray Seafront, Wicklow
Meeting time: 9:00 am sharp
Itinerary
Finnbee's Coffee House on Bray Seafront to St James Church Crinken, Bray, Co. Wicklow. 3.1 km
St James Church, Crinken to Station Rd. Killiney, Co. Dublin 5.6 km
Station Road to Convent Road, Dalkey 2.1 km
Convent Road, Dalkey to James Joyce Tower, Sandycove Point 1.5 km
James Joyce Tower to Seapoint Martello Tower 4.8 km
Seapoint Martello Tower to Merrion Gates 4.0 km
Merrion Gates to Hanover Quay 4.1 km
Hanover Quay to Christ Church Cathedral 3.7 km
Christ Church Cathedral to Parish of St. James (Dublin 8) 1.3 km
Packing List
Comfortable walking or hiking shoes
Blister plasters
Plenty of water
Sun cream
Sunglasses
Rain gear (just in case... it is Ireland after all!)
We look forward to introducing you to our days in Ireland and guiding you every step of the way.
Disclaimer: Participants will be responsible for the payment of their own food and drinks at the walk - they will also be responsible for their return trip home i.e. Dart, taxi, bus etc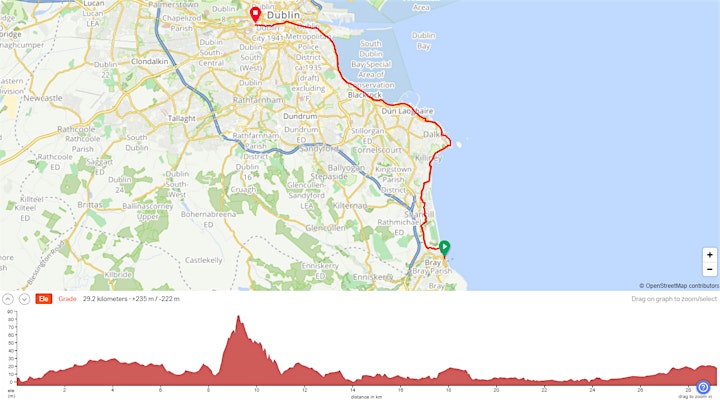 Details of the walk: https://ridewithgps.com/routes/36174532