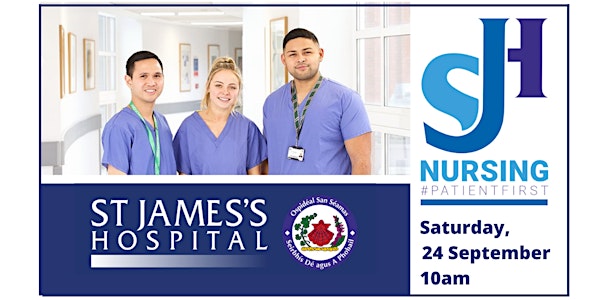 St James's Hospital Nursing Open Day –Saturday, 24 September 2022
St James's Hospital is Ireland's largest acute academic teaching hospital and is based in Dublin's south inner city.
When and where
Location
St James's Hospital James Street D08 NHY1 Dublin 8 Ireland
About this event
The open day is a one-stop-shop event for nurses and offers a range of benefits, such as:
• discussing career opportunities in SJH, where training and development is highly encouraged
• the opportunity to be interviewed on the day ( subject to meeting the shortlisting criteria)
• informal visits to clinical areas to get a 'true feel' for the hospital
• the chance to meet our friendly clinical staff and chat all things 'Nursing in SJH'
• to learn about the wide range of specialities and experienced multi-disciplinary teams in SJH – there's definitely something for everyone
• to find out more out what our Centre for Learning and Development has to offer, staff to enable them to give the highest standard of evidence based care to our patients
• HR staff will be available on the day to answer any of your queries related to the recruitment process and our HR policies.
So, if you want to speak to people working in the field and pick their brains about the skills and qualifications needed to help you make the next move in your career, then come along to the St James's Nursing Open Day.
On the day:
• Print the completed application form and bring it with you
• Bring your NMBI Certificate/decision letter from NMBI
If you are not available to attend our nursing open day but are interested in applying for a position in St James's Hospital please apply online by visiting the following website: www.stjames.ie/careers/nursing
Contact
If you would like more information on the nursing open day then you can email nursejobs@stjames.ie
For more information on St. James's Hospital please feel free to visit our website; https://www.stjames.ie/