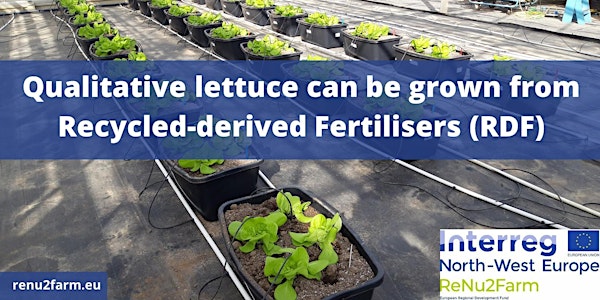 Stakeholder workshop on recycled fertilizers for horticulturists
Fertilizers from recycled materials are a sustainable solution for nutrient supply in agriculture and horticulture
When and where
Location
University of Limerick Plassey Park Road Physical Education & Sports Science Building V94 T9PX Castletroy Ireland
About this event
ReNu2Farm aims to increase the reuse of three plant nutrients, i.e., nitrogen (N), phosphorus (P) and potassium (K). Currently, farmers and horticulturalists mainly use non-renewable or energy-intensive fertilisers.
Recycled fertilisers are recovered from animal manure or municipal waste and consist of upgraded nutrients (N, P and/or K).
Using these fertilisers instead of chemical fertilisers has no negative impact on crop yields or soil life. Their use does however contribute to a more circular agriculture with less impact on the environment.
A survey among farmers and horticulturalists in Belgium, Germany, France, Ireland and the Netherlands demonstrated an increasing interest in fertilisers recycled from animal manure and urban green waste, among others.
ReNu2Farm seeks to reach out to horticulturists to present our findings on the use of recycling derived fertilizers and to discuss with potential users the benefits and potential challenges of using these more sustainable fertilizers.
Please also go to
www.renu2farm.eu/en/home/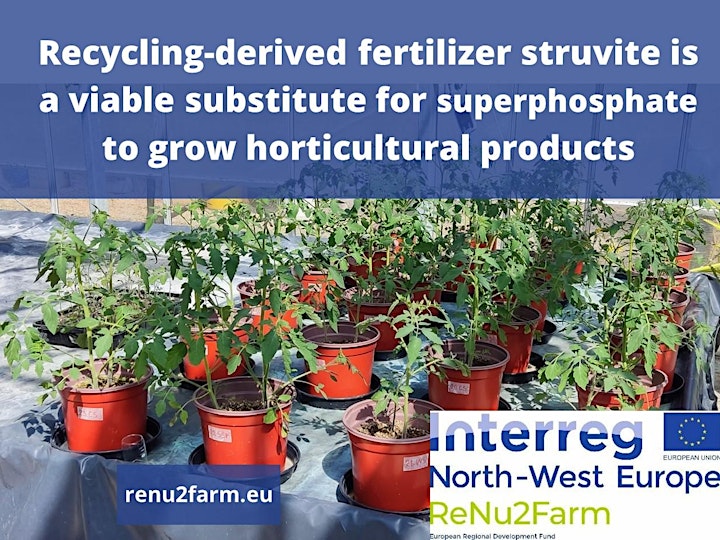 Presentations:
10:00am – Achim Schmalenberger (UL) welcome and introduction
10:10am – Niamh Power (MTU) presents findings from ReNu2Farm survey on recycling derived fertilizer use
10:30am – SM Ashekuzzaman (Teagasc/MTU) presents findings from the Teagasc field trial with RDFs to replace superphosphate
10:50am – Thomae Kakouli-Duarte & Achim Schmalenberger (SETU & UL) present findings from the agroecological analysis of the Teagasc field trial
11:10am – Laura Scholl (NMI) presents on the Legal Framework: what are the chances and challenges when using rdf
11:30 – Con Traas (Con's Apple Farm, UL) presents on the challenges horticulturists experience in fertilizer usage
11:50pm- 12:20pm Tea & Coffee break, networking opportunities
Round table discussion
12:20pm Table A – Field trial & agroecological assessment
12:20pm Table B – Farmer survey & challenges for horticulturists in adapting RDF use
12:20pm Table C – Legal challenges implementing RDF use
13:20 Conclusions and summary on round table discussions
14:00 Close