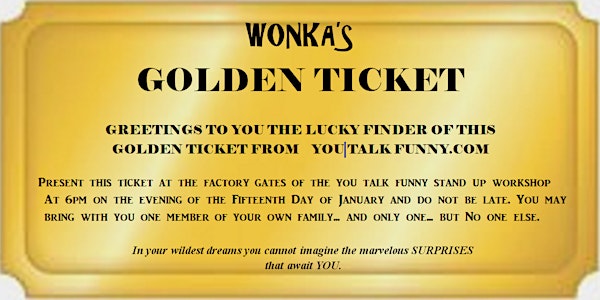 Stand Up Comedy Weekly Workshop for Beginners/ New Material
When and where
Location
Anseo Pub ( Upstairs) Camden Street D01 WA07 Dublin 2 Ireland
Refund Policy
Refunds up to 30 days before event
Description
*** Hiya guys - thank you for all your enquiries about the workshop - I have just sold the last ticket for the weekly workshops starting on the 15th January- but panic not - sometimes there are people who have to drop out - so if you are interested contact me on facebook/youtalkfunny - or text me, Ciaran at 087 6609 555 for half price tickets for the showcase at the end of this workshop - and I can slot you in if someone drops out - there will be another workshop coming up soon - so get in touch and I can make sure you are the first to know when the dates of the next one are confirmed -
many thanks again for getting in touch and stay funny!

You think you're funny? Are you up for a challenge?
And get out of your comfort zone, be silly, get creative, laugh a lot among a group of like-minded people, be stupidly and happily yourself.. while guided by the awesome comedy coach and brilliant facilitator Ciaran .... You're in luck, it's time to REGISTER for his next WORKSHOP!
'I've done it In January/February and have been weekly live performing (yes not only in my toilet) since the end of February and I Love it !!!!!
This workshop helped me to be more confident, to get lots of feedback from others, advice from Ciaran and the Team bond we created is absolutely priceless ! I wouldn't be so FULL ON if that wasn't for this workshop, the fab bunch of people I met and continual support from Ciaran'
REGISTER NOW, it starts on Tuesday 15th January 2018
*Just click on the first date 8th January( A week before the course starts) and this will count as your deposit paid.
Hello there, Ciaran here, I am putting together a group of 6 weekly Monday workshops once a week, Dublin City Centre Southside - Camden Street, Anseo Pub - Dates just confirmed - January 15th, 22nd, 29th, February 5th 12th and 19th. We will probably have the gig either on the last night of the workshop or the week after.( 26th)
6-9pm Tuesdays from January 15th.
Deposit - 50€
6 week workshop 250€ -
*** Early Bird Price 180€ before January 8th ( only two places left now...)
More info: Send Ciaran a message to You talk funny/ Facebook.
This workshop is ideally geared for people who have not done stand up before, or who are interested in writing a brand new set. Many people have experience in other fields of performance/ public speaking, but perhaps not in stand up. This will take you through all the elements of understanding the expectations of a stand up and with the first 2 weeks concentratiing on writing, then presentation, set construction, and finally performance. Through a series of fun exercises and different challenges we will assemble the different elements of what makes a very good debut and a strong connection with your audience to deliver a very powerful set that aligns with your personality and humour so that you can overcome any fears and continue to apply these skills to any public speaking environment.
The course culminates with a performance of your brand new set in a showcase where everyone does 5-7minute sets and is then ready to enter the comedy scene or open-mic circuit with strong confident material.
( Optional- for the chickens!)
This workshop:
Puts you and your material at the same level as someone doing weekly gigs for 6 months.
It polishes the material and gives you a very strong idea of what is expected from a stand up, hones your delivery and helps you deliver a solid 7 minute competition ready set.
It gives you strong guidance in writing, structuring and performing your material.
During the course of workshops you can easily produce up to 30 mins of material to choose from.
Please share if you know anyone who might be interested - thanks a million!

This will be a closed workshop of max 10 people - so we have time to progressively develop your material over six weekly classes of three hours, developing your skills, confidence and material.
Once a week for 6 weeks.
6 Progressive workshops, culminating in a live showcase where you do a 5-7min performance - (optional - for the chickens!) .
Each class progresses from the last and is therefore ideal for people who can commit to the full 6 weekly workshops, affording you plenty of time to run through your new set with feedback.
Course Description:
Ciaran will take you through the expectations and structure necessary to get you up and running with your first stand up set. A fun, dynamic and interactive workshop to reduce any fears and give you a good structure and mentality for getting on stage and performing for the first time, approaching it from energetic exercises and writing techniques each class identifies the necessary practice for writing, presenting and then performing your material, giving you a playful fun environment to give you the best attitude to overcome any fears and discover the fun in finding your voice through your funny bone.
Remaining balance due January 8th, One week prior to the start of the course. Refund only in the event of You Talk Funny cancellation. No credit/refund if student misses class.
About the Facilitator:
Ciaran regularly performs weekly in Laughter Lines Improv Troupe, Monthly in the Workmans Club for the Splendid Lunatics Comedy Show and that is when he is not Mcing weekly or performing in various clubs like the

Sugar Club: https://www.youtube.com/watch?v=zWMXYibNZWU&list=PLropKPCCQDcLhYO49_PJl0heKcVJqx3tZ&index=9
Hapenny Bridge Inn - Battle of the Axe, or Anseo, as well as abroad,

Munich
https://www.youtube.com/watch?v=DETdiMaN_yk&feature=youtu.be

Prague and the

U.S. of A: https://www.youtube.com/watch?v=5axipBaHOy0&t=366s&list=PLropKPCCQDcLhYO49_PJl0heKcVJqx3tZ&index=7

– Ciaran went to the Edinburgh Festival earlier this year to perform some improv and stand up too...
Testimonials:

The guys from the last workshop are sharing this event, chuffed with what they are saying...

Best few quid I ever spent in my life, made an amazing bunch of friends, couldn't recommend this more. Most of us in this picture are still gigging regularly, often every week. Proof if ever there was any needed. - John O Keefe Nov 18- Now a weekly club runner in Comedy Corner in South Anne St, D.2. over 100 gigs since his first after the workshop.
If you have ever thought about giving standup comedy a go or even if you're just looking to try something new to push you outside of your comfort zone then DO this course!
I booked it on my first day back to work in 2018 and I have not looked back since...
"You must do the thing you think you cannot do" ~ Eleanor Roosevelt
-Louise

I did the last course given by Ciarán. It was fab and I would highly recommend it. I have done 6 gigs already and have at least 2 more lined up. It was great craic too, so give it a lash. You don't have to plan on gigging after wards, just go along anyway. - Ita
You Tube Clips:
Ciaran at a story slam:
https://www.youtube.com/watch?v=zWMXYibNZWU

Some post gig interviews:
Tom - Showcase gig: https://www.youtube.com/watch?v=icpcH9X-3nU
Tom's Post gig interview - Tom: https://www.youtube.com/watch?v=DuTXqQxQnWc
More Testimonials:
'One of the best courses I have done, ever…'
...and I have been on a LOT of courses! Well done Ciarán ' - Louise – Actor/ Accountant

'... it was a mix of Ciaran's honesty and attention to the finer details in what you were trying to do. He obviously has an experienced comedy brain. But in my opinion he looked past what you were saying and was able to look and listen to what you were -trying to say, which is exactly what is needed to develop new material. I felt I didn't need to explain the direction I wanted to go, Ciaran clearly identified it quickly and spoke directly to my sense of humour.'


'The floodgates opened and I haven't stopped writing ever since...'
...I began to learn how to edit and shape and perform...
– Ita. Performer/ Tour Operator
'I can't imagine a more supportive and step by step introduction, with a very experienced teacher who knows how to run a workshop...'
– John -English Teacher –
(John received Audience Voted Best Act- Battle of the Axe - 1st gig after the workshop 50 gigs done since February.)
The classes are really good value for money,
brilliant fun and improved my confidence a lot in a few short weeks.

I found Ciaran's notes amazingly helpful. They got you thinking outside the box, and as I went through them, ideas were coming to me that I hadn't thought of before.

Since I came into the workshop I have been thinking of new, funny things to write about and seeing the lighter side of everyday life. I feel much more confident in meetings at work too.
- Angela – Journalist
it's super fun & a great laugh ...2/3 hours of laughing your ass off for a few weeks ...just what the doctor ordered- Ciaran- Engineer
'Brilliant introduction to stand-up comedy and comedy writing'
'Great place to meet fun and interesting people '
'Really good for confidence
– much more fun than any other drama courses I have done that were a lot more expensive.'


'To reawaken a sense of playfulness in a busy life'
'To meet a diverse and interesting group of people'
'...was on a total high for the next couple of days after each workshop'
'The course was an excellent idea and was genuinely good fun. The atmosphere and positive environment created, actually made me seek the participants out to stay in contact with for the future. I'm not normally like that but Ciaran set a good platform for everyone to engage and bounce off one another'


'The intro prep for me was excellent, I had thought about it a lot previously and had realised that when I had watched other comics I had been paying attention to their journey to the stage and how they behaved before they spoke..but the workshop demonstrated to me the importance of an intro. I would recommend the course to anyone that has an interest in comedy..either starting out or a veteran.'
'Ciaran! Thanks again for last night. It was brilliant. Was buzzing after it! I'd highly recommend it. I like how you focused on how you open and close. I meant we had an achievable goal and also gave us a quick go at being on the mic! Your delivery was bang on, and the games were simple and removed any tensions or nerves...
Pm me or contact Ciaran on 0876609555
many thanks guys,
Facebook/Ciaran.comedy
Facebook/ You talk funny
New website: www.youtalkfunny.com
So sign up for the workshop and get in early, word travels fast when I do one of these and this will be the most popular one in 2019. ( New years resolution time!) So if you are interested in getting into stand up there could not be a better beginning. The guys and girls who did the January course have more than 500 gigs between them already and have gigged all over Ireland and some in England, Germany and NYC!
**Oh yeah – proud moment Danny O Brien in June 2018, who did my workshop maybe 6/7 years ago just supported Bill Burr in the 3 Arena in Dublin to a packed full house of over 10,000 people.
Many thanks for getting this far - still unsure? Good maybe you shouldn't do it – or maybe,
you should...

Ciaran.