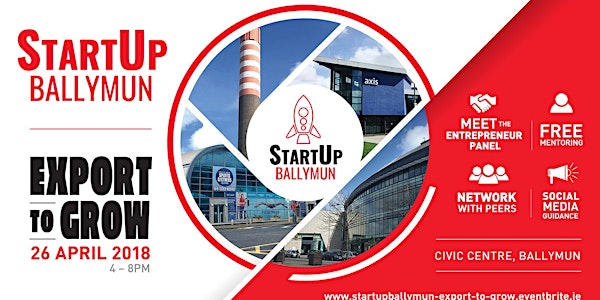 StartUp Ballymun presents "Export to Grow"
When and where
Location
Council Chamber Civic Centre Main St. Ballymun D09 C8P5 Dublin Ireland
Description
StartUp Ballymun presents -
"Export to Win"
Welcome to StartUp Ballymun - export to grow your business - Thursday the 26th of April 2018.
Aimed at owners of early stage and established businesses the event offers a unique flavour of practical advice and shared experience, featuring a business owners' panel and advice from enterprise partners.
Featuring
the StartUpBallymun panel of entrepreneurs sharing their experience of exporting,from first steps to growing sales in overseas markets
Schedule
4.00pm
Free business mentoring including export advice and social media audits provided by experienced mentors of LEO Dublin City, Carol Cousins @CarolCousins, Siobhan Riordan and Lisa Cunningham.
Partner information stands, practical information available from our partners, LEO Dublin City, EEN the Enterprise Europe Network, Ballymun4business, Dublin North West Area Partnership, North Dublin Chamber of Commerce, Innovate Dublin and Enterprise Ireland
5.30pm
Presentation on grant-aid and other supports for exporting companies
LEO Dublin City, Lisa Cunningham
Enterprise Europe Network, Aoife Ngo
Enterprise Ireland, Deirdre O'Neill
6.00pm
Welcome by Eoin Murray, Murray Chartered Accountants
Panel of guest speakers, presentations by business owners on export experiences including Sam Kelly Tweeting Goddess and of the Women's Inspire Network , Noreen Doyle co-founder and CEO of award winning the Irish Biltong Company, Charlie Sherlock founder of blockchain technology based meds verifier CheckItsReal ,Ronan Clarke founder of Smart Surfaces who Reinvent the way you work, and from Ireland with Grá Mark Loftus of the PaddyBox - more excellent speakers to be announced
7.00pm
Question & Answer session
Wrap-up & thanks, Liam Barry, Dublin City Council
Networking and refreshments
Ends before 8pm
Partner speakers include the Enterprise Europe Network based at Dublin Chamber offering support and advice to SMEs to make the most of business opportunities beyond Irish and European Union borders. Also see EEN Ireland
refreshments and light food
The event is free with registration and open to everyone.
Event moderator: Billy Linehan of Celtar business consultants
Why should you export?
Increase profitability, and sales. On average, businesses that export are more profitable than those who do not
Diversify risks selling to a wider geographical spread that lessens the impact from local downturns.
Economies of scale and lower production costs. Exporting allows you to take advantage of economies of scale.
Knowledge and skills are transferred from buyers to domestic firms when they start exporting.
Increased Lifetime of Product or Service, by staggering the launch in different locations. So, as the product reaches maturity at home you can launch elsewhere.
@StartUpBallymun
Facebook: StartUpBallymun
StartUpBallymun is an initiative of the Dublin City Council economic development officer in Ballymun, Liam Barry.
Contact: Billy Linehan, project manager, billy.linehan@celtar.ie
Contact: Liam Barry liam.barry@dublincity.ie
GETTING HERE
Daytime Parking
Ballymun has plenty of daytime parking options. On-street parking is available on Shangan Road, and metered parking available in the car park beside SuperValu costing 60c per hour. This car park has five accessible parking spaces available and there are traffic lights at the pedestrian exit to take you across the road to the Civic Centre.
Evening Parking
The car park beside SuperValu is free to use after 7pm and costs 60c per hour before 7pm. This car park has five accessible parking spaces available and there are traffic lights at the pedestrian exit to take you across the road to the Civic Centre.
Public Transport
The Civic Centre is served by buses 4, 13, 17A.