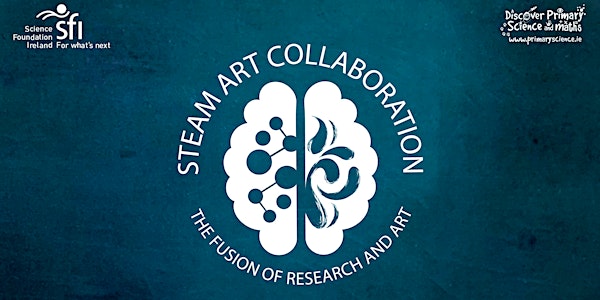 STEAM Art Collaboration - Public Virtual Exhibition Launch (7pm GMT)
Exhibition opening for the STEAM Art Collaboration virtual exhibition. Five artists, five SFI Research Centres, five unique artworks.
About this event
Join us for the public opening of the SFI STEAM Art Collaboration. In this virtual exhibition launch, taking place over Zoom webinar, you will get to view the five artworks from the STEAM Art Collaboration and meet the artists and researchers behind the projects. Each artwork will be explored, followed by a series of short 'In Conversation' segments with the researchers and artists involved.
We invite you to sit back, relax and enjoy an evening which celebrates the fusion of research and art.
Programme:
19:00 Welcome & Opening
19:05 Intro. to the STEAM Art Collaboration
19:15 Introduction to the Artworks
Caibleadh - 1iing Heaney x iCRAG
Rotation Relay - Ed Devane x CONNECT
The Invisible Made Visible - Shevaun Doherty x APC Microbiome
Machine's Eye View - Peter Nash x Lero
Shifting Patterns of Light - David Beattie x FutureNeuro
19:45 Break (10 mins)
In Conversation with:
19:55 Shevaun Doherty and APC Microbiome (The Invisible Made Visible)
20:10 David Beattie and FutureNeuro (Shifting Patterns of Light)
20:25 Peter Nash and Lero (Machine's Eye View)
20:40 1iing Heaney and iCRAG (Caibleadh)
20:55 Ed Devane and CONNECT (Rotation Relay)
21:10 Closing
Further information is available on http://www.sfi.ie/engagement/art-collaboration/
Please send any queries to scienceweek@sfi.ie or primaryscience@sfi.ie