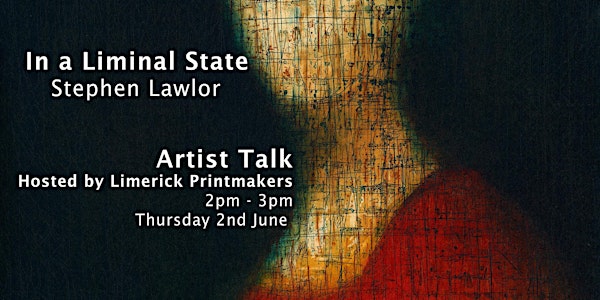 Stephen Lawlor Artist Talk - 'In a Liminal Space' retrospective
Join us in LP for an Artist Talk by Stephen Lawlor, & learn more about the role printmaking has played throughout his career
When and where
Location
Limerick Printmakers Studio and Gallery 3 Bridgeland House Johns Square V94FE06 Limerick Ireland
About this event
Limerick Printmakers is delighted to partner with The Hunt Museum, and painter and master printer Stephen Lawlor to offer two exciting events as part of a program of activities supporting and celebrating Lawlor's retrospective exhibition 'In A Liminal State'. '
In A Liminal State' takes place in The Hunt Museum from May 12th to July 3rd 2022.
Limerick Printmakers is proud to host two events on Thursday 2nd June as part of 'In A Liminal State' program. , the first of which is -
An Artist Talk by Stephen Lawlor, with an emphasis on his printmaking practice. This talk will run from 2pm – 3pm. Learn more about the role of printmaking throughout Lawlor's career and within his overall body of work.
About Stephen Lawlor
Lawlor was born in Dublin in 1958 and studied at the National College of Art and Design, Dublin. He lectured for many years in printmaking and life drawing at DLCAD Dublin. He won the printmaking prize at the RHA twice and print prizes in the USA and in Spain. He participated in the 1st International Print Biennial, Lingshi China 2012 and 7th International Biennial Douro Portugal 2014. He was elected a member of Aosdána in 2014 and an associate member of the Royal Society of Painter Printmakers (RE) in London in 2016.
About 'In A Liminal State'
In A Liminal State, a retrospective exhibition displaying the work of painter and master printer Stephen Lawlor, explores many of the artworks featured in the newly published Gandon Publication "Profile 29: Stephen Lawlor". Stephen has exhibited and worked regularly in Sweden, Belgium and China. His figurative images can border on abstraction but there is always a strong connection with the history of European painting. His use of light and his focus on the past makes his work instantly recognisable. In his introduction to Profile #29, author John Banville, says "Gazing into one of his canvases you find yourself being drawn deep and deeper into a landscape – or a 'landscape' – sumptuous yet uncertain, that is at once familiar and ineffably mysterious. It is a magical, slightly eerie sensation; you seem astray in a forest, a garden, a numinously shadowed cityscape, under a turbulent gold-and-umber sky that seems more solid, more grounded, than the ground you tread on."