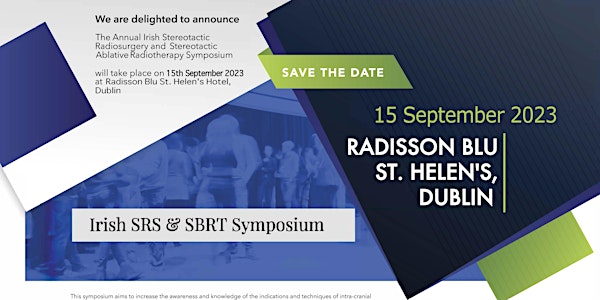 Stereotactic Radiosurgery & Stereotactic Ablative Radiotherapy Symposium
The 10th annual Irish Stereotactic Radiosurgery and Stereotactic Ablative Radiotherapy Symposium takes place on Sept 15th 2023
By Irish Stereotactic Radiosurgery Scientific Committee
Date and time
Friday, September 15 · 8:30am - 4:30pm IST
Location
Radisson Blu St. Helen's Hotel, Dublin Stillorgan Road A94 V6W3 Dublin Ireland
About this event
The 10th annual Irish Stereotactic Radiosurgery and Stereotactic Ablative Radiotherapy Symposium will take place on September 15, at Radisson Blu St. Helen's Hotel, Dublin.
The 10th Annual Symposium promises to be an exciting and engaging event with celebrated international speakers from Europe, USA and Canada in attendance. They will be joined by radiotherapy teams from all national centers including Beacon Hospital, St Luke's Radiation Oncology Network and Hermitage Medical Clinic. The target audience includes Radiation Oncologists, Medical Oncologist, Radiotherapists, Physicists, Neurosurgeons, trainees, researchers.
As this is the 10th anniversary, this event promises to be more exciting than ever, with great opportunites to network with world-renowned international speakers.
This event is for medical professionals only. If you are a company and would like to sponsor this event, please contact the organiser for further information on sponsorship opportunities.