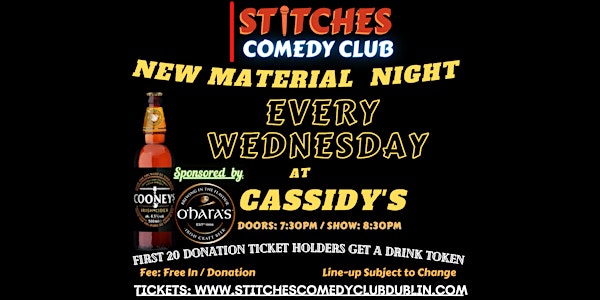 Multiple dates
Stitches Free Comedy - Wednesday's New Material Night at Cassidy's
Free Comedy Every Wednesdays Night at Cassidy's Westmoreland Street sponsor by O'Hara's Brewing Company 51st State IPA.
Date and time
Wed, 11 Jan 2023 19:30 - Wed, 27 Dec 2023 22:00 GMT
Location
Cassidys Bar, 27 Westmoreland Street, Dublin 27 Westmoreland Street Dublin D02 PX77 Dublin Ireland
Refund Policy
Contact the organiser to request a refund.
About this event
Stitches comedy at Cassidy's "New Material Night" sponsored by O'Haras.
Free comedy every Wednesday.
First 20people to book their tickets with donation before the show gets a free drink of Cooneys Irish Cider for the night & a reserve seat.
The rest of you guys will get a lovely unlimited supply of (Crisps / Chips).
Welcome to Stitches at Cassidy's on Westmoreland Street. This night is the best free night in town sponsored by O'Hara. This is our second venue and we bring you a free comedy where both new and professional comedians drop in and work on their material.
Free In / Donation's are encouraged.
Hosted by one of our residents host
Craig Moran
is Irish Comedian that started doing stand up late in life. He was the funny kid in a family of seven, he was the class clown in school and was always the funny friend his circle. All of this prepared him to do stand up comedy when he finally quit his bar management job and persued his dreams of being a comedian.
Craig is a regular in all the major comedy clubs in Ireland, gigging with some of the best acts the country. On stage he is ridiculous, silly and has a lot of energy when he tells stories or he gets into a bit. He also hosts weekly Quiz and Bingo events in the city centre.
Emman Idama
Emman is a strong name in the Irish Comedy seen, nominated for Irish Comedian Of The Year 2020 & 2021, Chortle Finalist 2019, and many other more awards, he has open for some of the big names in comedy and sports like Seann Walsh, Eric Cantona and more.
'Emman Idama is a more effervescent source of energy, just the thing to keep the spirits up. Idama establishes himself as a warm, charming and thoroughly engaging performer.' - Chortle
Senan Mcallorum
Is one to watch in Irish comedy
Stitches Comedy Monday - Sunday Show:
Monday's: The Workman's Cellar Bar Temple Bar. Doors: 7:30pm / Shows: 8:30pm — 10:30pm. Fee: 7euro / 10euro.
Tuesday's: The International Bar - Downstairs. Doors: 7:30pm / Show: 8:30pm - 10:30pm. Fee: 7euro / 10euro.
Wednesday's: Cassidy's on Westmoreland. Doors: 7:30pm / Shows: 8:30pm — 10:30pm. Fee: Free / Donation.
Thursday's: Peadar Kearney. (Start in February)
Friday's & Saturday's: Peadar Kearney. (Start in February)
About the organiser
In Stitches Comedy
In Stitches Comedy as a wild range of shows that will keep you entertained and begging for more.
On Monday's at The Workman's Cellar: "Comedy Monday" 4 fantastic comedians giving you the best comedy show town to kick of the week with random drop in set from television comedian.
Every Last Monday of the Month: "The Gong Show" 10 performances tries to last 5min on our stage with a 2min grace, with three random audience members will be given paddels, after the 2min if the judges dont thing the an act is funny they raise their paddles, If three Paddles are rased, the acts is gonged off.
On Tuesday's at The International Bar: "Comedy On The Spot" is Irelands 3 top comedians tries to come up with jokes from the suggestion that was written down from the audience.
On Wednesday's at Cassidys: "New Material Wednesday" A mixtuer of new, established, and Television acts dropping in to try out new material, wile also working on old jokes.
On at Thursday at Peadar Kearney's Pub :
On at Friday & Saturday at Peadar Kearney's Pub :
to night around Dublin Ireland our mission is to give you the best comedy night ran by Orla. We have 2 comedy night in the city.
Every Monday: The Workman's Cellar
Every Tuesday: The International Bar
Every Wednesday: The Cassidy's on Westmoreland street
Every Thursday - Sunday: Coming Soon
Website : www.institchescomedy.com
#Institchscomedy #DublinComedy