The Letterform Lecture series complements the Type West curriculum with presentations from luminaries in type, design, and research.
About this Event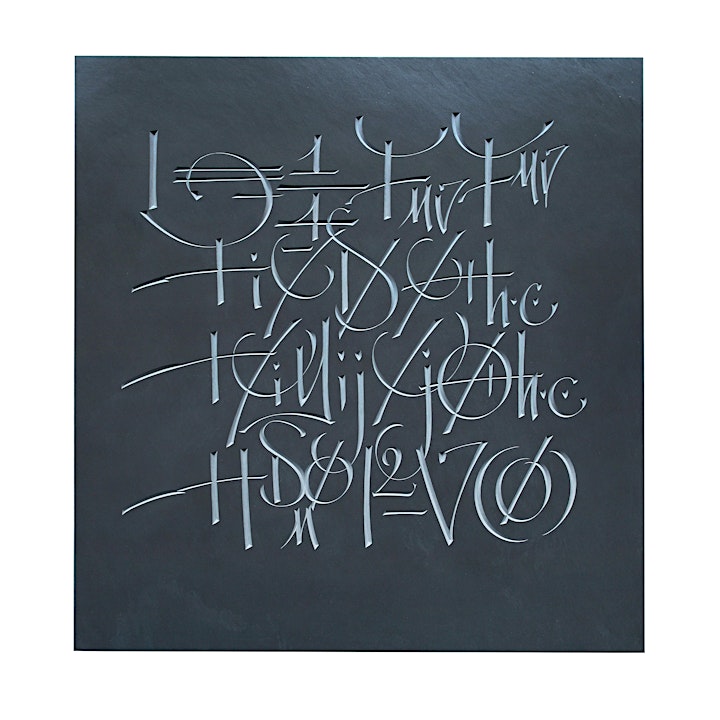 Architectural and memorial lettering is traditionally generated by hand with a broad edged brush in the manner of classical Roman inscriptions and then carved into stone with mallets and chisels. Renowned stonecutter Nicholas Benson will present a brief history of inscriptions and discuss how the digital realm is shifting human interaction with the physical world.

About Nicholas Benson
Nicholas Benson began an apprenticeship at The John Stevens Shop (founded in 1705) at the age of fifteen with his father, John Benson, in 1979. The shop specializes in the design and execution of one of a kind inscriptions in stone.
Benson studied drawing and design at State University of New York at Purchase in 1986. He spent 1987 at the Kunstgewerbeschule in Basel, Switzerland, studying calligraphy, type design, and typography. He returned to the U.S. in 1988 and continued to work under John Benson. His father passed the business on to him in 1993. Benson expands the traditional arts of hand lettering and stone carving through his designs. He has produced several site-specific typefaces for use on many large civic memorials, including the National World War II Memorial inscriptions and National Martin Luther King, Jr. Memorial inscriptions in Washington, DC; and the Louis I. Kahn, Four Freedoms Park inscriptions in New York City.
In 2007 Benson was awarded an NEA National Heritage Fellowship. In 2010 he was the recipient of a MacArthur Fellowship, and in 2013 he received an Artist-in-Residence Fellowship at the Yale University Art Gallery. He is currently working on the National Eisenhower Memorial inscriptions in Washington, DC.