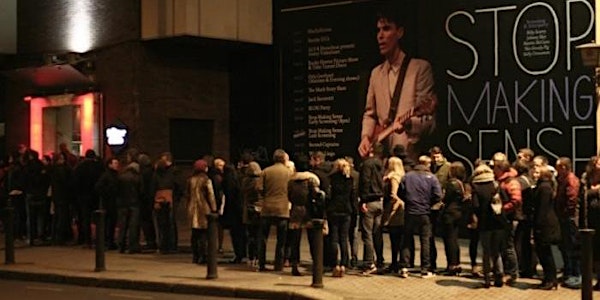 Stop Making Sense - Talking Heads night
When and where
Location
Cyprus Avenue Caroline Street Cork Ireland
Description
It's a club night like no other (especially for fans of Talking Heads). DJs start the night playing music influenced by or directly related to New York City (70/80/90s), expect a nice warm up of everything from Disco n House to Punk and Funk. Classic rare unseen photo selections from that era will be shown on the big screen as the DJs run through the soundtrack of one of the most culturally significant cities in the world. This is not a seated event, it's a dance party.

When the crowd are ready to go we show the best concert movie ever made, from the moment David Byrne kicks off the little beatbox on stage you will not stop dancing, trust us. The concert runs for an hour and a half and then the DJs continue the party well in the night.

Johnny Moy: A veteran DJ who (in the nineties and noughties) held residencies in NY institutions like Twilo, Limelight, Centro Fly, Save The Robots and many more. He also played at all the early DFA parties and has strong connections to the DFA / LCD family.

After party will feature DJs playing NYC influenced house, disco, post punk and other little ditties from or inspired by that great city and era.

Come witness one of the best music movies ever made on the big screen. We are showing the digitally re-mastered version to make sure it's the best quality sound and picture.

If you have not seen this movie, you have to, if you have, just watch it again and marvel at the genius that is David Byrne and Talking Heads in concert. This album and film are over 30 years old but never sounded so fresh.