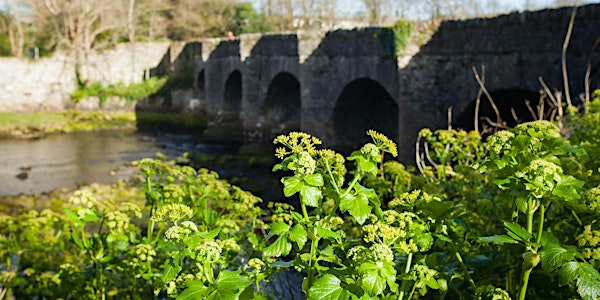 Stories of Change: Nature Wander and Haiku Writing Workshop
PITCHING POSITIVITY. CELEBRATING COMMUNITY. SHARING SOLUTIONS.
When and where
Location
Buncrana Anglers Association Angling Centre Swan Park, 30 Cahir O'Doherty Ave Ardaravan Buncrana Ireland
About this event
'Pay attention, be astonished, tell me about it.' - Mary Oliver
Immerse yourself in the wonders of nature with the mindful art of haiku poetry, paying attention to the natural beauty and inspiration of Swan Park and capturing it in verse.
The workshop will include a guided nature wander through the Park, to promote a connection to nature and create a greater appreciation of our local environment. Participants will learn how to identify plants and their properties and understand why they grow where they do.
While wandering participants, lead by Siobhan McLaughlin, will compose a haiku, a beautifully descriptive Japanese verse form, usually depicting a moment in time, intended to be read in one breath.
The group will be accompanied by Climate Clamour, a group of women activists who sing together regularly in the open air, for climate action, protection of nature and biodiversity and for a more just, fair, kind and loving world, remembering how we are all connected.
Age range: adult
After the workshop you are invited to join us for Cake, Coffee and Climate Chats 12.00 after the workshops at St Mary's Hall (Buncrana Cinema) where you can also experience Stories of Change The Exhibition
Stories of Change - The Exhibition is a collection of stories and photos featuring people in Ireland doing good things, in their community for Earth Care, People Care and Fair Share.
The Exhibition will showcase portrait photos and stories of community changemakers and include the launch of 'The Characters of Stories of Change', a short video featuring the forty community changemakers interviewed in Donegal, Galway, Clare and Kerry.
The events also include a local, seasonal feast facilitated by William from Wildstrands, workshops, stalls, climate conversations and live entertainment.
Stories of Change is one of 15 projects funded by The Department of Tourism, Culture, Arts, Gaeltacht, Sport and Media in collaboration with the Department of the Environment, Climate and Communications.
12:30 - Exhibition Opens at St Mary's Hall in Buncrana
12.30 - 1.30 Drop in workshop: Make a Botanical Medallion.
13:15 - 2.30 Seasonal Feast and Music by Nine Hazel Trees
15:00 - Climate Conversations
15:00 - Children's Nature Craft Workshop with Geraldine Timlin of the Avant Garden.
16:00 - Music by Ceolan School of Music
4.30 - Music and craic in the garden O'Flaherty's Pub - music by Ceolan School of Music