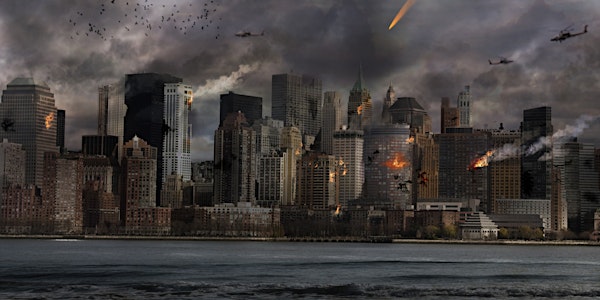 Stories of the End: Apocalypse and Literature
This lecture series will engage with the many literary forms of the end of the world, and ask: why do we love to tell Stories of the End?
Refund Policy
Contact the organiser to request a refund.
About this event
This course, delivered by Trinity School of English staff, will ask: How have culture, history, & politics shaped the stories that we tell about the end of the world? How have we thought about the apocalypse (which means, of course, "revelation", as well as termination)? How will we think about it in the future? Might the end of the world, in 2021, at last really be nigh? This lecture series will engage with the many forms that the end of the world has taken in literature, and ask: why do we love to tell Stories of the End?
Fee
€50 for the entire series. Individual lectures are €5 each. Concessionary rates for the full series will be €40 or individual lecture €4 each. The concessionary rate applies to: students, OAPs, unemployed, groups of 20+; TCD staff and Graduates.
Date, Time and Place
Due to COVID-19, lectures will take place online . Upon registering with Eventbrite, you will be sent a link and password each week which you can use to access the online lecture.
Schedule
There will be ten weekly lectures beginning on Tuesday 1st February 2022. Lectures will be uploaded at 7pm on Tuesdays. Tickets can be bought for any lecture at any time.
1st Feb Dr. Alice Jorgensen, "The End of the World a Thousand Years Ago: Fear of Judgement in Old English'
8th Feb Prof. Darryl Jones, "John Martin: The Victorian Master of Disaster"
15th Feb Dr. Brendan O'Connell, 'When Hell heard the hounds of heaven': the destruction of Sodom in Cleanness"
22nd Feb Dr. Mark Sweetnam, '"Babylon the great is fallen": The History of the Apocalyptic Other'
1st Mar Prof. Eve Patten, T.H. White's The Elephant and the Kangaroo
8th Mar Prof. Christopher Morash, "Conceiving Catastrophe: Yeats's Apocalypses"
15th Mar Dr. Bernice Murphy, "Pandemics in American Literature & Film"
22nd Mar Dr. Julie Bates, "Beckett and the End of the World"
29th Mar Dr. Clare Clarke, Mary Shelley's The Last Man
5th April Dr. Ema Vyroubalova, ""Even to the edge of doom": Shakespeare, the end of the world, and thereafter"
If you have a ticket for a particular lecture (or for the complete series), you will be able to access it by clicking on the link in your e-ticket, or by clicking on the button that says Access the event on the right hand side of this page. This will take you to the Online Event Page. Scroll down this page until you see the embedded videos.