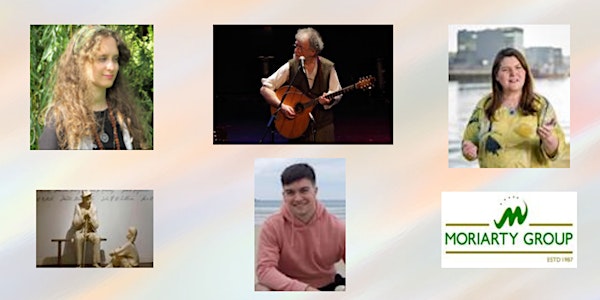 Storytelling Event 'New Beginnings'
Storytelling Event 'New Beginnings'
When and where
Location
Kerry Writers Museum 24 The Square V31 RD93 Listowel Ireland
Refund Policy
Contact the organiser to request a refund.
About this event
This event is sponsored by the Moriarty Group and is dedicated to the memory of master storyteller Eamon Kelly, who christened this form of entertainment 'Theatre of the Hearthstone'.
Storytelling is an age-old tradition which has existed since the dawn of time in every place where man has gathered. Storytelling means different things to different people. For some, it is an entertainment; for others, it is a way of passing on a culture, a way of teaching both young and old.
Come and join us as we are entertained by Maria Gillen, Beansceal in Residence at The Kerry Writers' Museum, and her band of troubadours. We are sure to be entertained by Jimmy Crowley, Eve Telford and Dairmuid Cronin.
Maria Gillen (M.A. Dramatherapy) is Storyteller in Residence for Kerry Writers Museum and the Artistic Director for Listowel International Storytelling Festival 2021 and 2022. Well known Bean An Tí (Irish Session Host), Creator of original stories based on the traditional storytelling skills of Ireland (Bean Feasa), Co-creator of stories with live audiences, Award Winning Storyteller - Winner of Sean McCarthy Cup Finuge, Butter Roads Storytelling Competition and Bealtaine Hero Story for healing reminiscence stories, Delivered workshops for Adobe, Johnson Controls, Forasa, UCC, Maynooth University and Olomouc University in the Czech Republic. Delivered Resilience Through Story Workshops throughout Ireland and in Germany. Works intergenerationally in the community with stories.
Jimmy Crowley has been a central figure in the Irish folk scene since the enthusiastic reception of his debut album 'The Boys of Fairhill' in 1977. With his band Stokers Lodge their mission was to present the street ballads of Cork city complimented by the ornate folk songs of the rural hinterland of Cork and Kerry - recently he was honoured by Cork's Evening Echo for delivering his one thousandth ballad.
Eve Telford is a singer, poet and short story writer rooted in the traditions of singers such as Nora Cleary, Margaret Barry and Elizabeth Cronin and has many different voices. Performing both unaccompanied and with her partner and bandmate Jimmy Crowley, she sings many songs of her own composition. She also performs traditional Irish, Scottish and English songs. She sings in Welsh, Irish as well as English and has a variety of Traveller and Gypsy songs in her repertoire.
Dairmuid Cronin is from Millstreet in Co. Cork. A talented storyteller he won the All-Ireland Fleadh Cheoil Competition at the tender age of 15. Since then he has caught the eye of our Storyteller in Residence, Maria Gillen as she scouts for story talent at festivals like Cape Clear and Sneem. He told tales at the Listowel Storytelling Festival of 2022 to an appreciative audience. He has specialised in the stories of our own Eamon Kelly - bringing them to new life for future generations. Watch out for Diarmuid as a teller for the future.
All events or shows will be filmed or photographed. Buying a ticket affirms your consent to the filming, sound recording, or photographing of yourself as a member of the audience. Photography and recordings are strictly forbidden without the permission of the Listowel Writers' Week Literary Festival Management.