Strawbale Building Courses @ Rock Farm Slane 2013

Saturday, September 21, 2013 at 9:00 AM

-

Tuesday, October 1, 2013 at 5:00 PM (IST)
Event Details
Hands-on Straw Bale Building Courses Start at New Ecobuild on Slane Castle Estate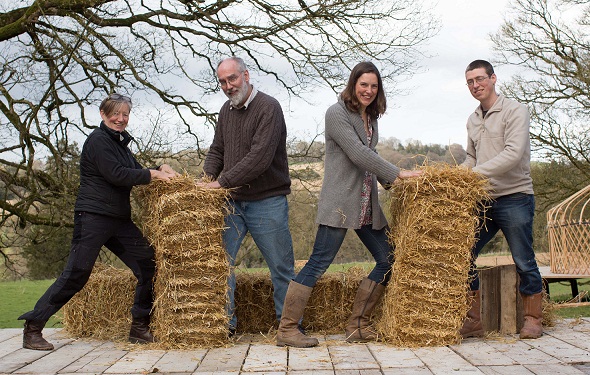 Carina and Alex Mount Charles founders of Rock Farm Slane are pleased to launch the first in a series of hands-on courses on straw bale eco-building in the grounds of the Slane Castle estate with Bee Rowan of social enterprise Strawbuild www.facebook.com/strawbuild formerly of the famous Amazonails straw bale building training and consultancy group.
The straw bale building and natural plastering courses will take place on live building projects over the course of two years on the Rock Farm Slane, an organic farm set in the parklands of Slane Castle overlooking the banks of the River Boyne. The hands-on workshops will focus on providing participants with the knowledge and skills to build their own straw bale homes, offices and small-scale commercial developments.
Clay plastering and lime rendering will also be covered as part of the workshops.
Rock Farm Slane is an inspiring and pioneering natural building and eco tourism destination. Join us in the evolving eco development on site as a residential course participant and stay in the luxury Glamping Site - Hare's Leap in a Yurt of Shepherd Hut.
Course Tutor Bee Rowan is one of the UK's foremost straw bale construction experts.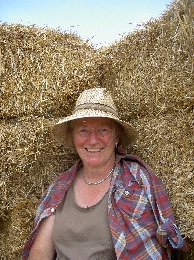 Bee has been building with straw bale for over 15 years and was formerly Co-Director and Head of Training for the pioneering straw bale building co-operative Amazonails. She has previously worked on the construction of a unique two-storey loadbearing strawbale spiral house in Co Mayo, built almost entirely by women with no previous construction experience, and as far back as 1997 worked on the construction of a loadbearing strawbale round house in Co Monaghan, a warm, thermally efficient and delightful family house to this day.  
As well as designing and building straw bale and natural buildings, Bee teaches straw bale construction in schools of architecture, and runs workshops for a wide range of people, from beginners to professionals. She is known for her wonderful ability to lead fun, inclusive and inspiring workshops. Bee has also taught regular mainstream contractors how to build with straw bale in the UK for such as social housing developments. She has also taught strawbale and natural building techniques across Europe, in Mongolia and recently Pakistan.
Course Booking Options - Sept/Oct 2013
Note: Our 5 Day Course running for 5 days - offered as a RESIDENTIAL or NON RESIDENTIAL package. 

BOOK TODAY - Places are limited so book early to avoid disappointment. 
Course Timetables:
1 Day Clay Oven Worshop (9-5pm)
Includes Fresh Clay Oven Baked Pizza - Price €75 / inc food and refreshments.
Date: 21st September 2013
5 Day Strawbale & Natural Plastering Course (9-5pm)
Residential Price €530 / inc Accommodation Breakfast, lunch and refreshments
Non Residential €340 / inc lunch and refreshments
Date: 1st October 2013

Course Information:
Strawbale Building Course: Super-insulating strawbale buildings are not just energy saving and money saving, they are really good fun to build! Anyone can build with straw when shown how. The introductory course led by Bee Rowan will equip you with the information and skills required to build your own home, barn, studio by loadbearing or infill methods - low cost, low environmental footprint and high performance building. You will have the opportunity to see strawbale buildings at various stages of construction in the eco-development. 

Clay plastering: How to prepare for clay plastering; how to mix, make, test and apply clay plasters. We will work with local clay and learn how we can use this amazing resource in our own homes. A practical course, using a mixture of machinery, tools, hands and feet, with theory sessions on the use of clay. Everyone from beginners to professional plasterers welcome. 
Lime plastering: How to prepare for lime rendering; how to mix, make and apply the different layers of lime, fully supported with the theory of lime, it's history, and different types of lime appropriate for uses in both strawbale buildings and conventional buildings. We will use a mixture of electric tools and hand tools. Everyone from beginners to professional plasterers welcome. 
Clay Oven Building: If you have ever seen Jamie Oliver pull a leg of lamb out of his clay oven  ready for Sunday lunch or perhaps you fancy making homebaked pizza in your own back garden - this one day course is just for you!  From how to plan and source your materials to mixing clay, oven shaping and sculpting with cob - we will take you through the stages involved so you can build your own Clay Oven at home. Not to be missed! 

FAQ's
How to make your booking: Once you have selected the duration of your course select and follow the links through to our PayPal payment options. Don't forget to include any discount codes you may have to apply your savings.
What is your Cancellation Policy? We regret that except in cases of illness, we will make the following cancellation charges:
a) more than two weeks before the course - half the fee forfeit.
b) less than two weeks before the course - the full fee forfeit.
The deposit is non refundable in most circumstances. However, the Rock Farm Slane as event operator reserves the right to cancel any courses. Deposits and fees will be returned in full should this happen.
What time does the course start and finish each day? The courses will run each day from 9.00am to 5pm.  We will break for lunch and refreshments over the course of the day
What type of accommodation will I be staying in: Accommodation will be in our luxury eco camp (Hare's Leap) on the farm. All furnished and heated Yurts and Shepherds Huts are set in the glorious and richly historic landscape of Slane Castle. Alternative accommodation arrangements are available. Please contact us for more details.

Do you have hot showers? Yes, most definitely.

What meals are provided if choosing Residential/Non Residential Package?
Meals included in Residential - Half board option. Breakfast, refreshments and lunch, with the opportunity of cooking shared dinners in Le Shac and BBQ area, or dining out in the local village 
Meal options for Non Residents - We offer lunch and refreshments to non-residents

I have special dietary requirements - can you accomodate me? Of course, just let us know what your needs are for example: Vegan/Vegetarian etc or indeed if you have any allergies or intollerances.  We want you to be happy and healthy during your stay with us!
How do I get to Rock Farm Slane? We are located only 45 minutes drive from Dublin Airport and 1 hour by bus from Dublin city centre. We are 10 minutes walk from the village of Slane.
Driving From Dublin Airport/Ferry Ports: If arriving at the airport/Dublin or Dun Laoghaire ferry ports, take the M1 north out of Dublin and exit at the Slane exit (signposted Navan)

Bus Services from Dublin:
Collins Coaches Timetable - Service from Lower Abbey Street Dublin to Slane
Bus Eireann - #188 Bus Service from Drogheda
When & Where

Rock Farm Slane, Ireland


Ireland


Saturday, September 21, 2013 at 9:00 AM

-

Tuesday, October 1, 2013 at 5:00 PM (IST)
Add to my calendar