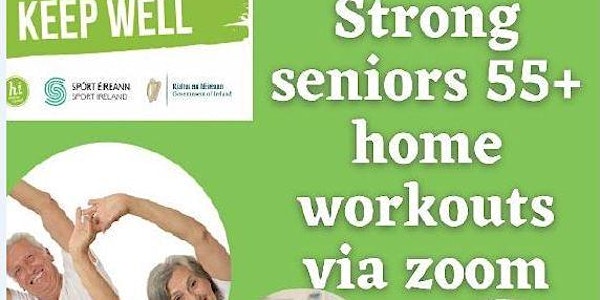 Strong Seniors 55+
The class is for those aged 55+ and will focus on basic strength and aerobic exercises
About this event
-6 week programme starting Wednesday the 16th June , 10.15 to 11.00am each day
Activity's will include strength and conditioning exercises using body weight - no equipment needed.
Participants will need access to a laptop/device with camera and good sound (no headsets to be used for safety reasons), the zoom app and a clear floor area to do the workout with an exercise mat or towel.
This programme consists of: 6 x 45mins a week on-line zoom live classes-Delivered by qualified fitness instructor-Participants will be given a link and password by email to join this private zoom class (this link/password cannot be shared)
Zoom suggestions: – ensure the view is on Speaker view so you can see the instructor on the full screen for the demonstration of the exercises. We ask participants to keep the camera on so the instructor can see participants doing exercises , this session will not be recorded.