Studio 12 Cruinniú na nÓg Project (Stories, Play & Games)
About this Event
For Cruinniú na nÓg 2019, Studio 12 Drama are delighted to invite you to "Stories, Play and Games " (ag Súgradh, ag Imirt & ag Caint) with guided activities in the form of theatre, storytelling, movement, visual and performance art for children and youths from toddlers to teens.
But we need your help to re-tell, explore, play and incorporate stories such as legends of Ireland. (Legends and Folklore can link young & old in the community and to encourage existing varying diversity of cultures, present and new.)
So we've selected well-known stories for the children an selected well-known stories to create, make and do their own piece and showcase at the end to an audience (parents).
Supported by Creative Ireland - South Dublin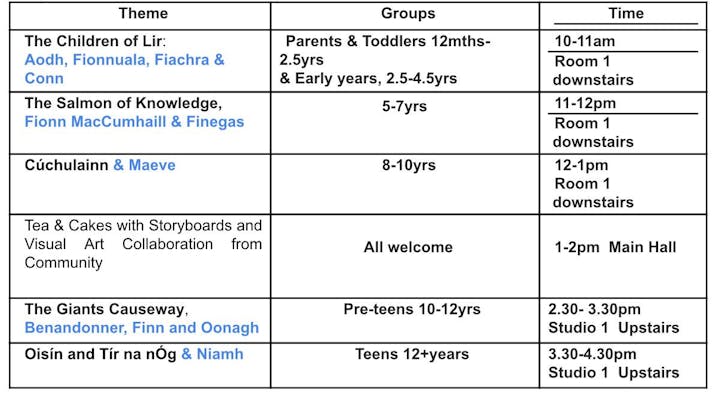 Studio 12 Youth Theatre is the brain child of Speech and Drama Teachers Jennifer Casey of Spotlight Speech and Drama School and Mary Sheehan of Idospeechanddrama. Established in May 2018 they facilitate weekly classes for pre-teens and teens in the Dublin 12 area for teens excited about drama and creating their own pieces of work.
Jennifer is an actor, drama teacher, facilitator and theatre maker. She holds her Associate and Licentiate Teaching Diploma with the Irish Board of Speech and Drama, and is currently part of GSA Performance Theatre Company.
Mary is an artist, actor, facilitator, theatre maker, writer, singer, creative producer and project developer. She holds her Associate Teaching Diploma from the Irish Board of Speech and Drama, Directing for Theatre from NUI Maynooth, is a qualified Artstrain Drama Facilitator and is currently training at the Stanislavski Acting Studio Dublin.